Doomsday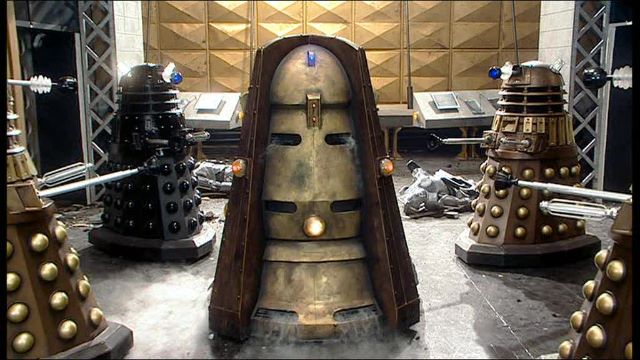 Well we're all doomed. Daleks and Cybermen? They've never been up against each other. And they're all over the planet. Also Rose keeps talking about how this is the day she dies? Either way, you have been properly warned.
What did you think of this one? Did you cry? You cried didn't you? Yeah you cried. What was up with that last thirty seconds? Can we pretend that didn't happen? It didn't? Excellent. How was the rest of the episode? Do you want to wear 3D glasses now?
This episode is available on Amazon Prime, Netflix Instant and DVD.
Admin




Posts

: 167


Join date

: 2012-07-09



Very emotional episode. The Doctor and Rose made a good team and its sad to see it end.

But the best part of this episode is seeing the Daleks kick ass. After this, there's absolutely no question as to who is the badassest of the DW villains. Cybermen think they can beat them. Wrong think again. Cult of Skaro is awesome. I can't wait for Asylum of the Daleks if they're all like this.



Posts

: 65


Join date

: 2012-07-24



The first time I watched this episode I basically cried my eyes out. I was just a tiny bit hysterical. I've moved on now thought and can watch this episode without some big emotional scene.

One of my favorite parts of this episode is the beginning when the Cybermen and Daleks are sort of bantering back and forth on who is more evil. "YOU ARE BETTER AT ONE THING. DYING."

Hilarious. I feel pretty confident that the four daleks in the Cult of Skaro could have taken out all the Cybermen even without the genesis arc. I hope to see them again in 'Asylum of the Daleks,' because they're a cool part of the Daleks.

I think if nothing else, this episode represents that this war between the Doctor and the daleks will just go one forever. They're always going to find a way to survive and move on.

Also, I cheated. I didn't watch the last few seconds this time around. It makes me so mad to ruin such a beautiful, touching moment with a tease for the Christmas special. I mean, REALLY. I just work really hard to hit stop at just the right time, because it's infuriating.

Aside from that, Doomsday certainly ranks as one of my favorite Dalek (and Doctor Who) episodes.







Posts

: 84


Join date

: 2012-07-23



I'm quickly learning that my favorite episodes almost always include the Daleks. That being said- oh my how this episode makes me cry. I consider this a finale of a series since everything changes after this and I've made it a habit of not watching series finales more than once. This episode is too well written and informative to not watch over and over.

I really wish we could have known Mr. Tyler more. His and Jackie's relationship is so bittersweet. While I'm glad that Rose gets to live in a world with her parents back together it pains me so to see her taken from the Doctor. The Doctor's face when he realizes that she's gone forever and Rose screaming on the other side of the wall gets me every time. I hate Billie Piper for leaving the show because of this and fully intend on telling her if I ever meet her.

I read once that the scene on the beach was the last thing that was filmed with Billie which makes it even more difficult to handle. When the Doctor asks who's pregnant and he kind of guesses she is it made me wonder what could have been. When he cries it just tears me to pieces but I guess that was the goal. I hate that Donna shows up at the end and ruins the whole emotional break down. Bad decision overall.



Posts

: 7


Join date

: 2012-07-24


Age

: 29



Before I had seen this episode the first time I was spoiled on what was going to happen. Unfortunately that did not stop it from being really emotional to me. The scene where they are on opposite sides of the wall/alternate space was done so well and I thought it was a great way to end the Doctor and Rose's time together. They would have been no other way than to kill Rose. She wasn't going to leave the Doctor ever and he wasn't going to let her go. Being on different planes was the only way to do it and it worked.

That scene where you see all the Daleks flying through space actually frightened me a bit and I was wondering, how the hell are the Doctor and his friends going to get out of this mess. Which reminds me, I am usually confident with the Doctor solving any problem that comes his way, but when it involves the weeping angels or the Daleks, I get nervous and wonder how he will get out of that mess. (I know, shame on me.)

It is a great episode that leads up to sad ending. It set up season 3 for a whole new beginning.




Posts

: 14


Join date

: 2012-07-31



This is easily the best Davies final episode of the season. Usually he just presses one button to fix anything (Heart of the TARDIS, Paradox Machine, the literal button in Journey's End, the diamond thing The Doctor shoots in The End of Time). This is a lever, but I actually buy it because they set up the bullshit science. The science in Doctor Who should never make sense, but if they set it up right, it counts. All of the void "stuff" fits because you made it believable and talked about it smoothly in the course of the two episodes. So I'm perfectly fine with millions of Daleks and Cybermen racing through the world because he pulled something.

Anywho, that's not what matters. Once again Jackie is wonderful. These are her best episodes. Her talking to her alternate husband is just wonderful. "That's not fair!" is rather heartbreaking in a small way. Mickey is great. Pete is great. The Doctor yelling at Rose when she returns back is great.

It does hobble a little bit when dealing with the Cult of Skaro and trying to get that exposition out of the way. Also did we really need mean Cyberlady cry?

But it all leads up to the ending. Them on either side of the wall is now an iconic part of the whole series and Tennant and Piper sold the hell out of it. I'm in the minority here, but I actually like that scene from The Parting of the Way more than the talk on the beach. That said, the beach scene is still great thanks to returning to the TARDIS to see The Doctor cry. Billie Piper was great on the beach too.

Then it was ruined by Catherine Tate, who I love in scenes aside from that one.

Oh, like Michelle said the banter between the Daleks and Cybermen was hysterical.

Man, I hope the next two episodes aren't atrocious!
Admin




Posts

: 167


Join date

: 2012-07-09





Similar topics
---
Permissions in this forum:
You
cannot
reply to topics in this forum