Dalek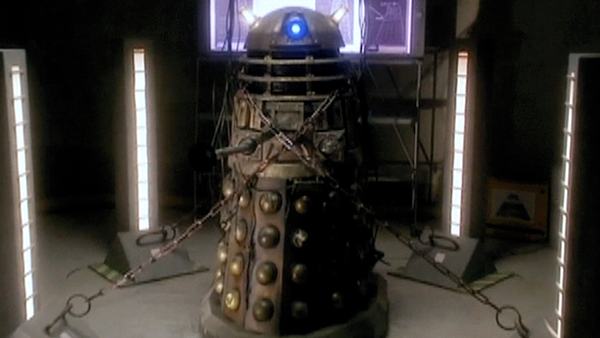 When The Doctor left the Time War he thought he had gotten rid of his greatest enemy at the price of his all of his people. Yet one survived...
What did you think of this? Was this your first exposure to the Daleks? Was it unnerving to see The Doctor like this? Was it fun to see them acknowledge of the Daleks and stairs? Why the hell is Adam tagging along?
This episode is available on Amazon Prime, Netflix Instant and DVD.
Admin




Posts

: 167


Join date

: 2012-07-09



Nothing says fun like a Dalek with an identity crises. Definitely the best episode of the Ninth Doctor and had a very nice lack of farting aliens. To me and those who have only seen the new series, it seems like this is where we first glimpse that there is more to the Doctor than a random space adventurer kidnapping young girls. And I think it speaks volumes of the character. When I first watched this last year and knew nothing, it was a very big departure from the Doctor I had come to know in the proceeding episodes. The Doctor's anger is quite staggering and enjoyable. I think this is some of Eccleston's finest acting on the show.



Posts

: 65


Join date

: 2012-07-24



This was my first Dalek episode. Something that strikes me upon a rewatch is that this episode shows just how powerful a single Dalek is. This Dalek takes out the base with such ease, and the Doctor explains so well the Dalek's logic....the humans are different. Thats all that matters. They are different and need to be exterminated.

It was a good way to introduce these villains to the new series...it seems at every other point we seem them in a group; here we learn from just one single Dalek, the 'last of his kind.' Definitely one of the best ninth doctor episodes.



Posts

: 84


Join date

: 2012-07-23



This was my first Dalek episode for both my original watching of Doctor Who and for the Marathon. The first thing that I noticed that I hadn't noticed the first time was that this episode takes place in 2012. I believe this episode does a great job of showing us a different side of The Doctor. While you would expect The Doctor to be more understanding of the Dalek's plight he's actually quite mean. We soon figure out why- The War.

My favorite part of this episode is when the guard is standing on the stairs telling the Dalek that the killing stops there and the Dalek just stares at her like, "Watch this."

I think this episode does a good job of showing why The Doctor needs companions but at the same time suffers because of them. Without Rose the Dalek would have killed many more people but without Rose there would have been no reason to stop the Dalek because no one would have touched it. Without Rose, The Doctor would have become and stayed the worst form of himself but instead Rose saved The Doctor after he failed to save her.

Overall a great episode but not one of my favorites.



Posts

: 7


Join date

: 2012-07-24


Age

: 29



I haven't seen this episode in awhile. I'd seen it a couple of times, but not since I watched all of the Classic series. Now that I've done all that and I have a better idea of the show, I can safely say this episode is incredible. When I first watched it, it really shocked me by having this charming character of The Doctor get really angry. It's a darker side to him. I heard an interview with Nic Briggs where he said that he went over lines with Christopher Eccleston during this episode and Chris described their first interaction as "A Holocaust survivor meeting a Nazi."

We've seen so many episodes where the Daleks are brutal creatures hellbent on destroying all who are different. Rarely do we see them trying to hide who they are (Power, Victory, Blood). In this, we've never seen a Dalek like this. It's shocking to see a Dalek act with reason and hesitation. Also we have the Doctor pushed into a darker direction. It's well plotted and very sharp. Sure we have the Adam subplot, which was a good idea in theory but not execution. (Davies wanted to show the strength of all the companions throughout the show by showing a bad companion.)

Also the ending is fun because the Dalek defeats itself in a way where everyone feels dirty from it. Reminds me of the Buffy musical lyric "And the battle's done and we kinda won..."

I'd say this is the best Dalek episode of the new series. At least for the next few weeks....
Admin




Posts

: 167


Join date

: 2012-07-09





Similar topics
---
Permissions in this forum:
You
cannot
reply to topics in this forum