I Am a Dalek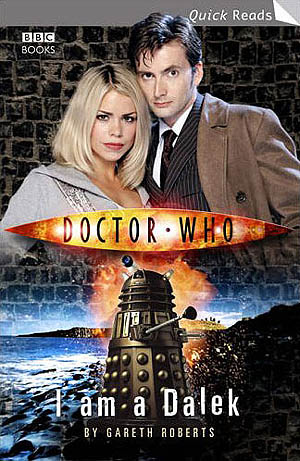 The UK government had this crazy idea that people really ought to be reading. So they commissioned a series of these BBC Doctor Who books to encourage kids to stop watching Doctor Who and start reading Doctor Who. As an added bonus, this is shorter than the other books. So you're reading but not THAT much. How do you like that The Man?!?
Anywho, the Tenth Doctor and Rose encounter a Dalek or something. I don't know. I haven't read this yet. The cool thing about this book is that it's written by Gareth Roberts who wrote some great episodes of the show including "The Shakespeare Code", "The Lodger" and "Closing Time." He also wrote a number of Doctor Who books and Big Finish audio dramas during the time when the show was off the air. So I bet it's a good one.
This book is available at Amazon and Barnes and Noble and plenty of other bookstores. There is also an ebook version for the Kindle.
What did you think? Did it sound like the Tenth Doctor and Rose? Was it a good story with its length? Did you thank Parliament for tricking you into reading? (Reading this doesn't count...I don't think.)
Admin




Posts

: 167


Join date

: 2012-07-09



Yeah that's right, I read a book! It was super cheap on Kindle and took like an hour to read.

It's obviously written for a young-adult audience, but it's still pretty good. I like that it brings up things we've seen before like the idea of the Dalek Factor and the time ring. I think a part that's cool is when the Dalek is still forming and doesn't have his gun.....we actually get to see how destructive he can still be with just his plunger.

This introduces two regular humans as well, Kate and Frank. Kate played a bigger part in the story, but I just didn't care for her at all. Just sort of annoying. Frank was a little more likable, but we don't get to see as much of him. I did like in the end how the Doctor sort of broke the rules though.

It's a fun read, and is really quick, so I recommend it.



Posts

: 84


Join date

: 2012-07-23



This was a very quick read. It's just over 100 pages. It's clearly written for younger kids because the prose is simpler and they kept adding sentences explaining past things. Yet, the plot was really strong. The first couple of chapters each end with a confusing twist that keeps you interested. All of the dialog was very strong, especially from The Doctor. Rose was well written too, playing her typical role of "What about humanity?!?!" There were still a few things I was surprised about since this was for kids, like obviously all the talk about killing and then a throwaway joke about okay sex.
Admin




Posts

: 167


Join date

: 2012-07-09




---
Permissions in this forum:
You
cannot
reply to topics in this forum