Dalekmania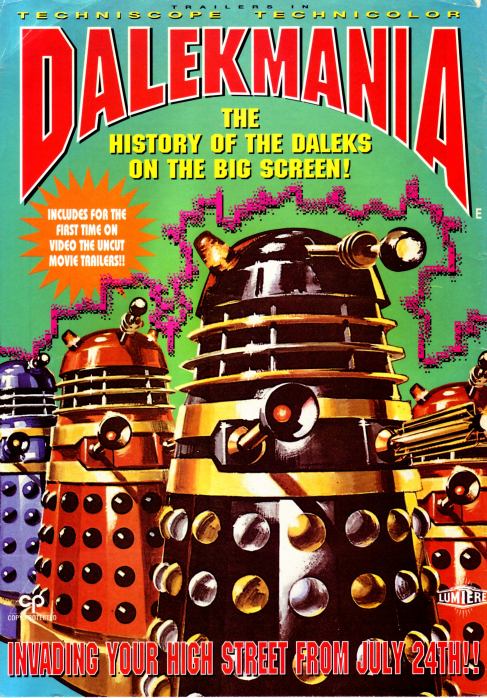 After the 1963 serial "The Daleks" aired, something just went nuts in England. This goofy looking villain became an icon. Dalekmania isn't just a clever title for this documentary, but a name for this phenomenon. This documentary looks at the United Kingdom during this time and how you couldn't go anywhere without seeing a Dalek printed on something. It also takes a look at the two spin-off Dalek movies. The only problem is since this isn't a BBC produced documentary they can't show any clips from the official series.
It's only 50 minutes long and is available on Netflix Instant.
What did you think of that? Do you feel better about yourself that you don't have that much Dalek stuff? Or do you? Do you? .....Do you?
Admin




Posts

: 167


Join date

: 2012-07-09



....wasn't a huge fan. I was just a little bored with this the whole time. Interesting to see how the daleks sort of took off though. It was fun seeing all the little toys and gadgets that came out of the obsession. I love that the woman refers to the big model the "Rolls-Royce" of dalek merchandise. I'm not sure that's a good use of 1500 pounds, but sure. Overall though, found the whole thing to be a little blah.



Posts

: 84


Join date

: 2012-07-23



Okay... With Michelle on that I don't care much for it. Was pretty boring and did not focus nearly as much on the pop culture influence as I had hoped. Instead it was mostly just the Peter Cushing movies which I haven't seen yet. The intro was incredibly creepy with the two kids and pretty much anything with them terrified me.

When the Dalek went down the ramp and caught fire... oh man!



Posts

: 65


Join date

: 2012-07-24



Everything you guys said. This was sold as a documentary about Dalek culture, but it's just about the Cushing movies, which this has shown to be just wrong. Invasion Earth looks okay, but Doctor Who and the Daleks looks like a total bastardization, and this has put me off seeing it, especially at the theater shown in the framing scenes. I'd say they need to fire that guy, but he seems to be the only one who works there.

Bernard Cribbins seems just as loveable as a young man, though.

The Dalek catching fire looked like it was supposed to happen. And how sad are these Daleks? The trailers hype them as unstoppable, unkillable, fleshless metal men, but they can be pushed around without much effort at all, and if you drive a truck into them, they shatter like the plywood they're made out of.



Posts

: 22


Join date

: 2012-07-24



I have to agree with everyone else. At some points, it had a hard time holding my attention. And I wish they would have talked more about how they came up with design and voice of the Daleks.

However, there were some parts I found entertaining. I loved the part where some of them seemed to realize that they never met the people operating the Daleks. "I don't think I ever met a Dalek operator." "Did they ever get out?"

It just surprises me how much limelight the Daleks got after their first movie. There was so much Dalek merchandise and success from the first film, they quickly made a sequel. I just find it interesting because they would not be the one character(s?) that I would market from that film. Maybe that's why I'm not in marketing.

But I am glad that the Daleks became popular because if they didn't, we might not have gotten some pretty awesome Dalek-centric Doctor Who episodes later!!!




Posts

: 14


Join date

: 2012-07-31



If the Daleks didn't become popular, we might not have any Doctor Who episodes. The show didn't get popular until The Daleks.



Posts

: 22


Join date

: 2012-07-24



This is even worse than I remembered it. My memory certainly cheated this time because I thought it was more about them as an icon in the pop culture but that's barely in this movie. Really this is just a poorly edited making-of bonus feature of the two Dalek movies. Which are terrible. And still part of this marathon!

I wish they talked to Terry Nation more because he was more honest about things. There's a good documentary to be made about this subject. Even if you don't have the rights to show clips from the show doesn't mean you can't talk about it. That's the reason why they're famous! Whatever.

I apologize for making you all watch this. Thank God it's under an hour.
Admin




Posts

: 167


Join date

: 2012-07-09



The first time I was legitimately checking to make sure I was watching the right thing, haha. I was like...is there more than one Dalekmania??? Because this doesn't seem correct.



Posts

: 84


Join date

: 2012-07-23





Similar topics
---
Permissions in this forum:
You
cannot
reply to topics in this forum