Remembrance of the Daleks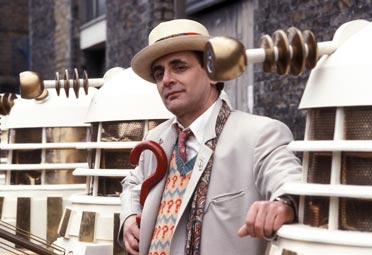 Sylvester McCoy has a bad wrap. Sure the show was canceled on his watch, the next season in fact. Yet he was a really good Doctor. His first season is a bit rough because he played it like a clown. He had the charm, but it couldn't improve bad stories. Then in this season, they really switched it up. He was still a bit goofy, but he had a darker agenda.
Part of that was from him hinting at a secret past of The Doctor, the things he did before he stole a TARDIS. This story plays upon that by having him return to England in November 1963 (Ah!) to recover a hidden Time Lord artifact. Yet guess who else wants it.....
This serial is available on DVD in a cool two-disc special edition that has a long featurette about Davros's history.
What did you think of it? Did you like hinting at more Time Lord mythology? Weren't the Daleks in top-notch condition? Isn't Ace one of the best companions?
Admin




Posts

: 167


Join date

: 2012-07-09



Daleks can do stairs now! It took them a little while, but they figured it out!

Really like both the 7th Doctor and Ace. The Doctor has a pretty fun, goofy personality, but obviously has that darker, serious side to him as well. He actually reminds me of the 11th Doctor a bit. I love the end when he says, "Goodbye Davros...it hasn't been pleasant." Just sort of sends shivers. This Doctor is down to business.

Ace is an legitimately helpful (and likable) companion. I mean, she blew up a Dalek with a bazooka! And beat some more down with a baseball bat. That's pretty awesome. Aside from Sarah-Jane, she might be the favorite of the old-series companions I've seen so far.

It's great having some Time Lord mythology built in the episode as well with the Hand of Omega. Sort of cool seeing how the Time Lords mastered...time travel.

The fact there's a whole Dalek civil war going on is pretty cool. I love the Dalek that just has one giant gun on the front of it and is a different design. I hope we see that one again! Because it's cool.

Overall, I really liked this serial...a lot more than the last few I watched honestly. It was really fun and had a pretty good story behind it. All the fun I always hope and expect to get out of a Dalek episode. Gets me really pumped for 'Asylum.'

Definitely sad to be done with the serials! At some point I'll have to go back and watch some more so I can see more of each Doctor. Really loved them all in their own way. Except maybe the 6th.

Also, I love the 80's music and special effects. That's just great.





Posts

: 84


Join date

: 2012-07-23



I'd love to see a whole set of stories on the Dalek civil war. I really liked the design of the different Daleks. It was nice to see a little bit of variation.

More Time Lord stuff is always nice.

I loved the Seventh Doctor. Like Michelle pointed out, he's kind of similar to Eleven. Can be playful and then dreadfully serious. When he was talking to the Dalek at the end, that was creepy. Ace is so spunky. She can definitely hold her own and is really unlike most of the previous companions.

I really enjoyed the story overall. Good fun.



Posts

: 65


Join date

: 2012-07-24



This one was a ton of fun to rewatch. It has a few bumps in it with pacing, but it's a big improvement over Resurrection. The music is awful, but everything else is great. All of the fun little pokes at this taking place in November 1963, the start of Doctor Who; the douche who wanted Ace to meet his mother; The Doctor keeping secrets from everyone about the Hand of Omega; so many awesome explosions and of course.....the Special Weapons Dalek! Really great story, probably my favorite of the Seventh Doctor. Perfect set-up for Asylum which I shall watch very very soon....
Admin




Posts

: 167


Join date

: 2012-07-09



This is not normally something that I would say, but this story is awesome because of all the explosions! Ace has those cool exploding cannisters and the special weapon dalek was super badass. I may have nightmares about that thing coming after me. Dalek on dalek action is also pretty cool. They really aren't that good at killing. The battles between themselves take a long time, and at one point 2 take on 4, kill one of the 4 and they retreat. They still outnumbered them. Pathetic. The Doctor blowing up an entire planet (okay, tricking someone into blowing it up) seems pretty non-Doctory. I was really surprised that was part of his plan.



Posts

: 4


Join date

: 2012-09-01





Similar topics
---
Permissions in this forum:
You
cannot
reply to topics in this forum