The Wedding of River Song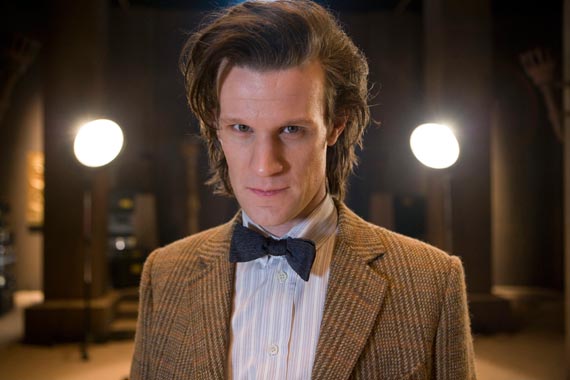 In the Season Six finale, everything has been led up to this. The Doctor is facing certain death at Lake Silenco. That doesn't mean everything might not go nuts before then. A Dalek is barely in this, but one is still in it so here it is. The small moment is relatively badass.
What did you think of this? Was it a satisfying wrap-up to a very complicated season? Did you follow all the timey-wimey stuff? Does every other wedding look less awesome in comparison?
This episode is available on Amazon Prime, Netflix Instant and on DVD/Blu-Ray.
Admin




Posts

: 167


Join date

: 2012-07-09



Oh, I adore River Song. That's a fact.

The moment with the Dalek is very small, but as you said, very badass. I like how he just rips off the eye stalk and presents it as reason enough to be taken seriously.

I would say it was a satisfying conclusion to a crazy season, but it wasn't my favorite episode of the season by far. That honor goes to "A Good Man Goes to War" and it's follow-up, "Let's Kill Hitler." Then of course, "The Doctor's Wife." I mean, it was a good wrap up, but it was such a good season that there's so much competition.

They do such a good job in the beginning showing time all stacked up on itself. It's a really cool opening scene and leads into it very well.

I love in the end when Amy realizes she's the Doctor's mother in law.

And also The Question. The first question, the question that must never be answered, hidden in plain sight....Doctor Who?

That should be fun next season.



Posts

: 84


Join date

: 2012-07-23



Like Michelle said, this episode isn't my favorite of the season but I love it more every time I watch it.

First the Dalek scene. Awesome. The Doctor isn't joking around. He really wants to know about the Silence and he will dismantle a Dalek if he has to. Unfortunately that's the only Dalek in the episode.

The alternate world is awesome and except for the whole disintegrating time thing, I would totally want to live there.



Posts

: 65


Join date

: 2012-07-24



This is a blast of an episode. It's like that Steven Moffat keeps a journal of crazy mad ideas and he decided to put in half of the book in this episode. The arc of the season was dark, really dark. Judging the Doctor so much that not only a powerful force wants him dead, they have to put him in a psychological position where he will agree to die. They can't simply reverse that. So choosing to live and let the world think he's dead works for great forward progress.

But again, there are so many awesome things. The chess, the skulls, the Churchhill. The small scene with the Dalek was brief, but rather badass. The Doctor's little speech and the great shot of him dropping the eyestalk. So awesome.

Also if anyone is questioning the legality of the wedding and whether it counts in this universe, completely missed the point.
Admin




Posts

: 167


Join date

: 2012-07-09



Do people actually question the legality of the marriage? That seems absurd.



Posts

: 65


Join date

: 2012-07-24



Anytime River Song is in an episode I know I am going to love it. She is my favorite character to watch on the show. And it's not just all the mystery behind her, it's her attitude! Anyways, the episode; Pretty much like everyone else has already mentioned, I love this episode and it is a great finale, but I would not put it as the best of the season.

For a whole season being built up to how he was going to survive being killed, I was worried that the answer wasn't going to satisfy, but thankful that did not happen. I have seen the light and have realized that I should never worry when Steven Moffat is the writer.

I did spend a lot of time trying to figure out how the Doctor was going to get out of that mess and I have to say, tiny people operators was not a theory I had in mind!




Posts

: 14


Join date

: 2012-07-31



So as we all know, the dalek moment in this episode is very short. But the Doctor presenting an eye-stock to say "Don't mess with me!" was pretty awesome.

My favorite part of this episode is the Doctor and Churchill dealing with the Silence. Especially the line that goes something like, "Apparently we are defending ourselves."



Posts

: 4


Join date

: 2012-09-01



hells to the yeah, the doctor rocks. and (SPOILERS) i was right, river does marry and kill the doc. Churchill was awesome in everyworld universe, and that lady with the eyepiece totally deserved what she got. and also, the best thing of all doctor who ever always:
DOCTOR WHO!!?



Posts

: 31


Join date

: 2012-07-28





Similar topics
---
Permissions in this forum:
You
cannot
reply to topics in this forum