Resurrection of the Daleks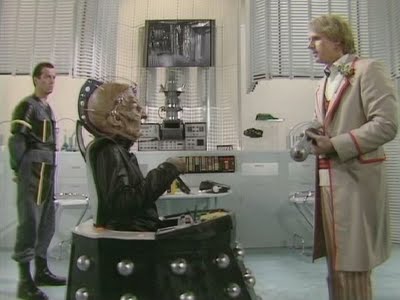 Okay there was a Dalek cameo in The Five Doctors, but Davison needed his own Dalek story. This is a pretty cool one. The story is a bit more violent than it usually is and the inclusion of Davros always has a darker connotation. Peter Davison was always a likable Doctor because he served as a big brother to his companions. Yet I really liked him the most when he really got involved with the story, especially in his grand finale The Caves of Androzani.
This is available on a DVD Special Edition that you can find anywhere.
What did you think of this one? Do you like the style of this more than the older versions? Did Davison hold his own? Should Davros always been in a Dalek story or can it be over-exposure?
Admin




Posts

: 167


Join date

: 2012-07-09



Despite the fact I've only seen him in two episodes, I quite like the 5th Doctor. He's fun and has a good personality. The fact that he's younger than his predecessors helps a bit I think too.

This was definitely a little more violent than we've seen, but I didn't mind it. Sort of creepy seeing everyone get disfigured by gases and bacteria. I love that the Doctor briefly revisits his question of whether he should have destroyed the Daleks completely in 'Genesis.' Here, he at one point comes to the conclusion he was totally wrong then and needs to take care of Davros once and for all. I think it's so interesting to see how the different personalities of the Doctor handle this. Should be interesting to see how the 11th will take on this conundrum.

I'm pretty much to the point that I feel like you can't have enough of Davros. He's just kind of awesome, and adding him in sort of adds this other awesome element to the Daleks. And he looks like he dies again! That guy always manages to survive. I won't pretend to understand how.

Tegan's departure was really interesting, but we see this every once in awhile. As fantastical as it sounds to travel with the Doctor (I, personally, cannot believe the TARDIS has not shown up to pick me up yet) the companions see both the best and the worst of the universe. It seems appropriate that some companions should exit this way...that is just "isn't fun anymore."



Posts

: 84


Join date

: 2012-07-23



Seeing the Doctor almost murder Davros in cold blood was nerve racking. I love the internal conflict it caused and how in the end, he couldn't do it. And then he unleashes the virus on the Daleks. This Doctor has no mercy for the Daleks and it's fun to see. I find it interesting in "Time Crash" when the Tenth says to the Fifth, "You're my Doctor" when Ten is very pacifistic and refuses to pick up a gun. Yet, here, Five is very violent and shoots a naked Dalek and almost Davros.

I really enjoyed seeing the different factions of Daleks against each other. Davros is finally tired of being mistreated by his creations. I wonder how he'll come back and what role this virus will play in future serials.



Posts

: 65


Join date

: 2012-07-24



My biggest problem with the Fifth Doctor's era is that they don't really have very good companions. This was the best example of that because throughout this story Teagan and Turlough don't do anything. I'm not even sure that Turlough speaks during the first episode, which is 45 minutes long this time. This is a rather dull story because nothing really happens until the end. Things simply just don't happen in scenes. They had so many cool things they could have focused on like the clone copies of the companions or the planned invasion of Gallifrey, but none of that happened. Just a lot of going back and forth to the same rooms. Still, it wasn't too bad just a bit empty.
Admin




Posts

: 167


Join date

: 2012-07-09



So the Doctor didn't want to straight up kill Darvos, the evilest evil thing in history, but he was fine releasing a virus that killed hordes of daleks? Pussy can't look something in the eye and kill it, can he?

This story was really slow. It could have been at least half the length and been much more exciting. There are many scenes were nothing really happens.

I'm glad I had no investment in Teagan because her send off was awful and really quick. So little happened in this story, and she especially did so little, that to not take any time to say goodbye to you seems like a slap in the face.



Posts

: 4


Join date

: 2012-09-01





Similar topics
---
Permissions in this forum:
You
cannot
reply to topics in this forum