Destiny of the Daleks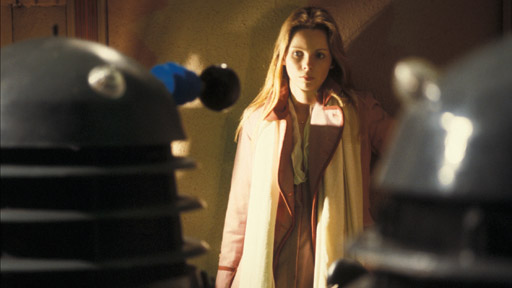 The Daleks were gone for quite awhile. Four years has gone by since Genesis aired and they were missed. This was their big return to face the Fourth Doctor. Also this was the introduction of a (kinda) new companion by having his Time Lady friend Romana choose to regenerate into a new body for kicks. (Also Romana I didn't want to return to the show.) Also K9 is here!
This story brings the action back to the Dalek's home planet of Skaro where The Doctor first landed way back in 1963. Yet a lot has changed and one villain still very angry at The Doctor.
This serial is available on DVD at a great number of places.
What did you think of this one? Was it great to see the Fourth Doctor up against them again? How about that ending? Did you like Romana II?
Admin




Posts

: 167


Join date

: 2012-07-09



This was another fun adventure with the 4th Doctor, but not as good as Genesis. I wanted more of K9 than we saw! Oh well.

Last we saw Davros the Daleks had turned on him. Then in the same exact spot they're coming back to get him to help. Funny how that works out!

I didn't really care for the Movellans. They were annoying and this story in general wasn't all that exciting. A couple hundred year stalemate in a war that no one can take action in.

I did like Romana though, she was a good companion. I like how her outfit is all similar to the Doctor's only pink.







Posts

: 84


Join date

: 2012-07-23



This was enjoyable. I love the beginning with Romana. The different body thing was funny although I wonder how she did it. Did she keep killing herself? Or did the time energy thingy allow her to try out bodies.

Davros is very forgiving. The Daleks killed him after all, yet now they're still his babies. He's kinda like a mother.

I have to disagree with Michelle. I find the idea of huge stalemated war interesting when you consider two people could change the entire thing.

The Doctor loves "Rock Paper Scissors. I wanna see more Romana stories.



Posts

: 65


Join date

: 2012-07-24



Romana II is also one of my favorite companions. Her introduction scene was a lot of fun and her chemistry with Tom Baker was brilliant. Then the rest of the episode does a good job at being a lot of fun. It's not as epic as Genesis, but it is definitely trying something. They were a bit to sci-fi writing with how they were trying to explain logic with all of the rock-paper-scissors and pink elephant rambles. Still, this was a lot of fun. Bit of an underrated one.
Admin




Posts

: 167


Join date

: 2012-07-09





Similar topics
---
Permissions in this forum:
You
cannot
reply to topics in this forum