Death to the Daleks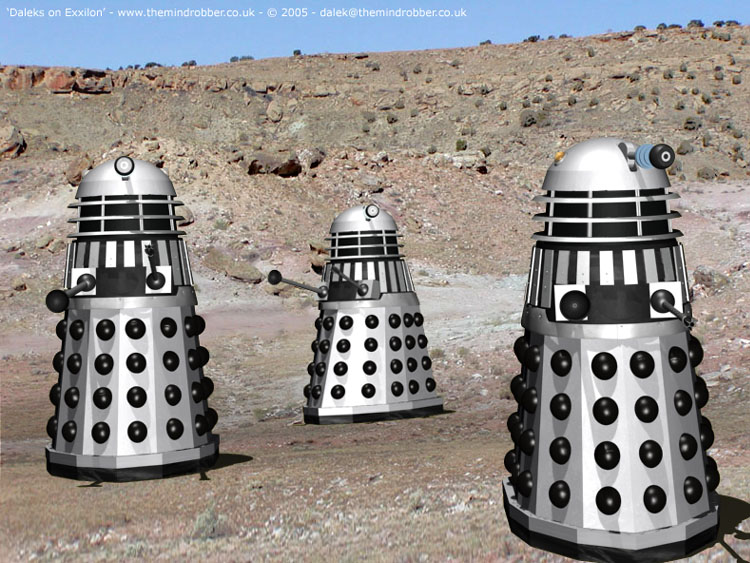 The Third Doctor is back in his third and final interaction with the Daleks. This one puts him and Sarah Jane Smith against the Daleks on a neutral planet that has something vital they both need. The race is on.
This DVD just came out on DVD this month with a whole bunch of spiffy bonus features.
What did you think of this one? Did it rank up to the other two Pertwee Dalek stories? Did you like Sarah Jane Smith in this one? Is Terry Nation starting to repeat himself a little bit?
Admin




Posts

: 167


Join date

: 2012-07-09



This felt really similar to "Planet of the Daleks." I didn't like Sarah-Jane quite as much as I thought I would. I'm sure she'll grow on me though. I didn't find anything really 'special' about this episode. It was fun as always, but nothing earth-shattering. I liked all the little puzzles and tests that led them through the city in the finale episode. It was entertaining watching the Doctor actually take the time to solve them while the Daleks....shoot at them. Both effective, apparently!

I think the thing that was strange about this episode is that the Daleks aren't the obvious enemy. At one point they're even 'allied' with the Doctor....and actually end up saving him from the antibodies. They're both working against a common enemy in the city, but obviously for different purposes. Made for a different feel, but Dalek episodes are generally a little more exciting when they're trying to take over the world/universe/kill everyone. I guess they were to a certain extent with the plague and all, but it isn't quite as flashy as their other plans.

I enjoyed the time with the third doctor though! His episodes were certainly plenty of fun and he's a glimpse closer to the Doctor I know today.







Posts

: 84


Join date

: 2012-07-23



I liked this one much better than the previous two. Like Michelle, I really liked seeing the Doctor be clever and figuring out all the puzzles while the Daleks just exterminated the puzzles. It was interesting seeing a younger Sarah Jane than what I've previously seen. I loved the Daleks in this episode. Seeing how their lasers didn't work and then improvising their own. It was nice seeing them be clever.

I kind of liked the Daleks not being the main enemy and that the actual enemy was a sentient city!

Very fun serial.



Posts

: 65


Join date

: 2012-07-24



I just saw this a few days ago and, once again, I forgot about most of it. I love Sarah Jane Smith and once again she showed why she's one of the best companions ever. She's adventurous but she also shows that she is scared about what's going on. I did like how the Daleks weren't exactly the threat of this story, but someone else trying to get what they want. After awhile the puzzles were a bit tiring since they never had any emotional weight to them considering the audience couldn't ever really solve them. The puzzles were this one right? Yeah, Planet and Death to are pretty much the same story. This one is a bit better because it has Sarah Jane instead of Jo Grant!
Admin




Posts

: 167


Join date

: 2012-07-09





Similar topics
---
Permissions in this forum:
You
cannot
reply to topics in this forum