Planet of the Daleks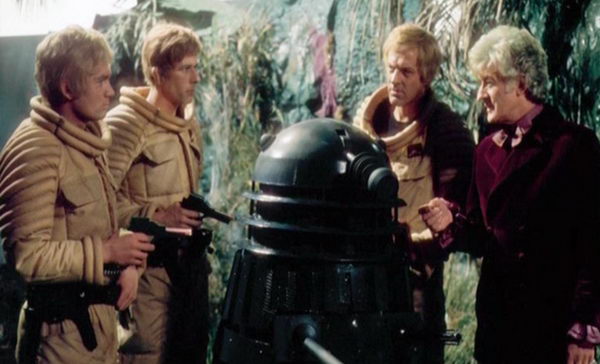 Having serial lead into each other was something that was popular during the First Doctor's era. So it was a bit of a surprise that Frontier in Space lead into this with a compelling cliffhanger to boot. Almost made up for Frontier in Space....
Here are the Third Doctor and Jo Grant on the edge of their lives and now they are on a planet with people called Thals. That sounds familiar! Those were the guys in that serial called "The Daleks." Look at that!
This serial is available on DVD at a bunch of places.
What did you think of this one? Was this satisfying after Frontier in Space? Was it good to go back to some Dalek mythology?
Admin




Posts

: 167


Join date

: 2012-07-09



Oh, look...the Thals! This was definitely an enjoyable Dalek story, but not my favorite of the bunch thus far. Certainly a fun adventure though. I liked how the planet had all sorts of unique properties to it that played into the story. The Spiridon both acted as a slave force and resistance (I was pretty sad when Wester died), those little plants shot fungus at people, and of course they used the molten ice to flood the chamber with the Dalek army. Of course, in that scene it looks more like Nickelodeon's "slime" than molten ice to me. Granted, I don't really know what molten ice is supposed to look like.

I think with the appearance of the supreme Dalek here we see the Daleks looking a little more similar to how they look today. They're getting there little by little.

I also love at the end how The Doctor advises the Thals to not make war sound like some grand adventure, it helps me see a glimpse of the Doctor I've come to know in the new series.

The thing I like about many of these old serials is that they always remind you that even when the Doctor seems like he's taken down the Daleks, they're always a threat ready to come back. You can't ever count them out.

Maybe we'll see this Dalek army freed from the ice in Asylum of the Daleks.



Posts

: 84


Join date

: 2012-07-23



Not my favorite serial but definitely better than "Frontier in Space". It had a some moments that I really liked. I enjoyed the concept of an ice volcano and molten ice. I also love the talk the Doctor gave to the Thals at the end of the story, how they shouldn't tell the Thals back home of any glory in war. Very nice. I love seeing the Thals each time and how they've evolved as a people. When we first saw them, they were a nomadic, almost primitive people, now they're traveling to different planets. How exciting!

The part I loved most about the Daleks in this serial was at the end where they said they would never be defeated and they'll keep coming back. Reading comments in the new trailer about "Asylum of the Daleks," it seems a lot of people think the Daleks come back to much, but that's part of what makes them awesome! The fact that they are so resilient. It's very cool.



Posts

: 65


Join date

: 2012-07-24



This one is just fine. It really doesn't need to be six parts, but it's thrilling throughout. I love watching the Daleks in the old series how they move their eyestalk like they are reading. Them trying to be invisible is a cool concept, but never really used to its potential. Also it had that cool actor who played [REDACTED] from The Mind Robber and a Time Lord in The War Games. That guy is cool!

Jo is still worthless. The planet looked cool. I never have anything to say about this serial, I'm sorry. I have failed you. Forgive me? No? Wow. That's harsh. Hell no? Jesus, you could have just politely typed something, you didn't have you yell at me in that cold robotic voice.
Admin




Posts

: 167


Join date

: 2012-07-09



I thought the pacing in this serial was actually really good. I was disappointed by the "cliffhanger" at the end of the first episode, where they were surprised to find a Dalek on the planet. That's just fine for the characters, but when the viewers get a title card that says "Planet of the Daleks" right at the beginning of the story... Maybe that's why I was more impressed with the ends of episodes 2 and 3. I actually was surprised when they said there were 10,000 Daleks, and I thought ending on "It's not working, Doctor!" was fairly suspenseful (even if they did ruin it by starting episode 4 with them already rising into the air).

I was really happy to see the Thals again. I honestly thought they were going to be one of those things established in the First Doctor's era that just kind of disappears in the questionable continuity of the Whoniverse. It was refreshing for him to not have to explain how deadly the Daleks are. Plus, I've always just thought the Thals were interesting all on their own.

My only complaint would be that the romantic tension was kind of awkward, but at least they used it to seque into the Doctor's line "That's only one little world. There's so many hundreds of others to see!"



Posts

: 2


Join date

: 2012-07-25





Similar topics
---
Permissions in this forum:
You
cannot
reply to topics in this forum