The Evil of the Daleks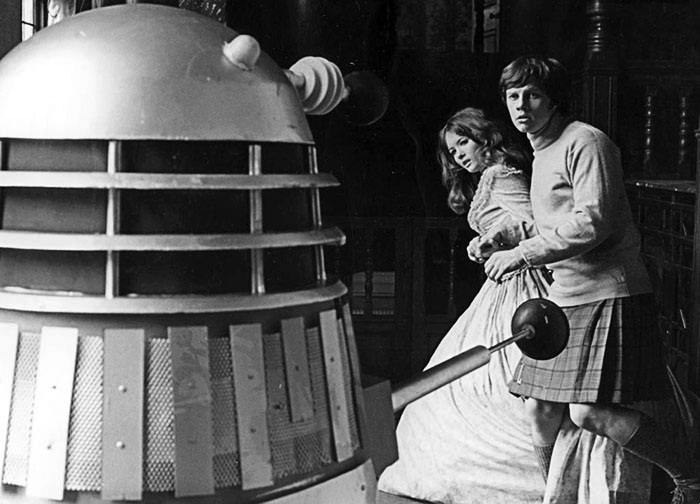 This is a Second Doctor serial so you know what that means. That means it's really really awesome....and almost entirely composed of stills. Ugh. Ughhhh. Many people argue this one is one of their favorite Dalek stories ever. I'm one of those people. After Genesis, this is the best so far.
At the end of the last serial, The Faceless Ones (also good, also stills) someone stole the TARDIS. The Doctor and Jamie continue to look for it and stumble upon this sinister plot. They hold their cards to their chest for the longest time, but it's worth the wait. Really great plan in place and one hell of an ending.
This was supposed to be the final Dalek story in Doctor Who as Terry Nation was going to take his property and go to America to become rich with a Dalek TV show. So no more Daleks after this!
You can find the first part of Evil of the Dalek starting right here. Remember all of them are stilled reconstructions except for Episode 2. So that's nice!
https://www.dailymotion.com/video/xntx2f_the-evil-of-the-daleks-part1_shortfilms
What did you think of it? How do you like Victoria? Was it darker than you imagined?
Admin




Posts

: 167


Join date

: 2012-07-09



Hooray! The last of the stills!

I can definitely see why many rank this among their favorite dalek episodes, it's quite excellent. I think it took a little too long to get started and get to the meat of the story, but I like it a lot once it did.

Now I know where Daleks in Manhattan/Evolution of the Daleks got its idea from. Only this was about a bajillion times better because it wasn't ridiculous. At the beginning I was really intrigued by the idea of the "human factor" and if combined with the best of a dalek what it would create. Those daleks are pretty smart though....all they wanted was the dalek factor! Clever, clever. This was actually a pretty fantastic plan. Once again it seems like the Doctor defeats the Daleks forever...but there's always once lingering image of hope for these crazy villains.





Posts

: 84


Join date

: 2012-07-23



Once I got into the second episode, this was really fun. I laughed so hard when the Doctor was playing with the Daleks. I really liked the Doctor in this serial. The episode was mostly centric which was nice, happing in a house for most of the story. It was really nice not to see a massive invasion attempt but something small.



Posts

: 65


Join date

: 2012-07-24



This serial is so fantastic. This is on my list of serials I really hope that we find in a cave Indiana Jones style. Especially after listening to so many Big Finish stories, it's hard to put the Daleks in a new light. Yet this really put them in an awesome situation by having them be scary by being playful. Also you have a great introduction of Victoria, Jamie being betrayed by The Doctor, explosions and Patrick Troughton being wonderful. Still one of the best Dalek stories ever.
Admin




Posts

: 167


Join date

: 2012-07-09





Similar topics
---
Permissions in this forum:
You
cannot
reply to topics in this forum