The Power of the Daleks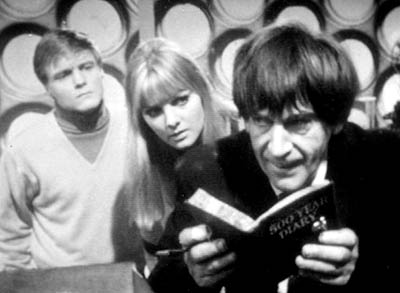 Now this is a very special episode. William Hartnell's health has been getting worse so the show had to think of what to do next. Someone brilliant thought of the idea of The Doctor regenerating into a new body so at the end of the last serial, The Tenth Planet, the First Doctor became the Second Doctor.
This story was the first story of the Second Doctor. They brought back the Daleks because that would draw in an audience and adjust people to this new idea. Patrick Troughton is my favorite Doctor after Matt Smith and this is such a great introduction. Smart story, great twists, the Doctor plays the recorder.
But this episode is entirely missing. The BBC wiped all of these episodes and they haven't been recovered in any random country they sold the viewing rights to. Ugh. Luckily the audio of the serial remains and nerds synced that up to production stills, but it's not the same. But it's a really good story! I promise!
Here's the link to the first part:
https://www.dailymotion.com/video/xnlnws_the-power-of-the-daleks-part1_shortfilms?search_algo=1
What did you think? Was it a good introduction to the Second Doctor? Were you ever fooled? Are you pissed this episode is missing?
Admin




Posts

: 167


Join date

: 2012-07-09



I was on the struggle-bus with this one. The missing episodes are starting to drive me a little bit crazy, but I'm trying to power through.

What's always interesting with a new doctor is that short little adjustment period where he tries to figure out who he is now; I also thought it was interesting seeing Ben and Polly's different reactions. It takes Ben awhile to accept that this still is the Doctor.

What's always fascinating in Doctor Who is to see the arrogance of humans. Even when a man comes running in saying melt them down, get rid of them, you have to destroy them...the humans just immediately forge on trying to reactivate these daleks. And they of course, succeed. Like it's such a big surprise that everything goes to hell.

Wasn't my favorite of the old serials I've watched so far. I just couldn't get into the story. I hear such good things about the 2nd Doctor though...so I hope I like the next one better!





Posts

: 84


Join date

: 2012-07-23



This was difficult. Looking at pictures for three hours is not an easy thing to do. I think I would have really liked the story if I could have actually seen it but as it was, I found it hard to watch. I really liked the Doctor. Everybody was getting so mad when he was playing his flute!

It just realized watching this just how many of the stories contain rebellions/revolutionaries/ freedom fighters going against the government. Usually human against human. It's a good concept but used a lot.



Posts

: 65


Join date

: 2012-07-24



I hear what you guys are saying, but you're completely wrong. This probably has one of the worst batch of stills to use as stills, but this story rocks so much. It's a perfect story to tell because this is selling the idea that a different actor can play the Doctor. They don't offer any explanation about what happened, just said the TARDIS helped. Only Ben is a bit audible about this not being right. So with that in mind, here is a story where you don't know if this man is the Doctor and what that even means, the Daleks are pretending not to be the Daleks and the Doctor is pretending to be the exterminator. There's so much going on about lying about your identity where by the end, everyone's true nature comes forward. I think it's a great story. Sure it's a bit long, but I'm always game for more Patrick Troughton.
Admin




Posts

: 167


Join date

: 2012-07-09




---
Permissions in this forum:
You
cannot
reply to topics in this forum