The Chase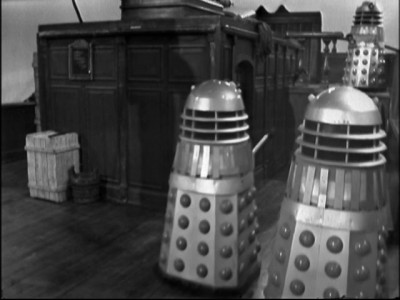 Those gosh darn Daleks are back and this time they have a time machine. How do they have that here and not in the rest of the series? Shut up. They have a time machine and that means there's nowhere The Doctor and his companion can hide.
This serial is full of some very weird moments (Hey it's the Beatles!) and some wonderful moments like the final scene.
The Chase is available on DVD and can be bought at a whole number of places.
What did you think of it? Do you like Steven? Were the Beatles even on the DVD version, I haven't seen that yet? Has Doctor Who ever been good with American accents?
Admin




Posts

: 167


Join date

: 2012-07-09



This one was a little silly, but still enjoyable. I enjoyed the little jaunt through time and space landing on the Empire State Building, aboard the Mary Celeste and so on. That's something we didn't see in the first two serials and made it all a bit more fun.

I can't for the life of me figure out why British people would be interested in seeing the Gettysburg Address. I mean, that makes no sense. The Beatles make sense though. That was a fun little cameo.

Something that was interesting is that the dalek's goal from the beginning was to go after the Doctor. They weren't set on taking over a planet or destroying the universe....they just wanted the Doctor! That was interesting and shows the rivalry pretty well.

I felt like the whole last act of this was a little stretched and unnecessary though. Steven was weird...I didn't really see any value in him or those robots being added into this. I would have rather the Doctor settle it with daleks than all this extra stuff thrown on us at the end.





Posts

: 84


Join date

: 2012-07-23



k, waiting for austin to pull the video up... he asks me if i'm ready, i didn't reply but he still says "here we go" and is now telling me what's going on, vicky's from the future but not annoying as susan. looking away now.
HOLY SHIT A DALEK! That's not a mini TARDIS.
Vicki's a klutz. The Doctor borrowed Doc Emmet Brown's speaker! ...or it's just a Time Television.
and screw adds.
Fat Lincoln on the TTV!
not digging the "ANNIHILATE!"
lets recap something:
Vicky: "don't pull it! you musn't! you can't! dont!"
Chersterton: "well should i pull it or shouldn't it"
Vicky: "..ok."
end of part one. that Dalek looked confused.
The Daleks have learned not to trust The Doctor.

ok, as for the rest of this... why the hell were the Daleks chasing after him so poorly when they had a TIME MACHINE? i don't think they ever had a reason to get out of the TARDIS, and i already miss Ian and Barbra. There was something in the ending montage of "i love being back home" that i thought really funny but i can't remember, so look for it when you watch it.



Last edited by pedaubry on Thu Aug 02, 2012 9:23 pm; edited 1 time in total (Reason for editing : had to finish it.)



Posts

: 31


Join date

: 2012-07-28



Shockingly not titled "The Chase of the Daleks".

Yeah, that's all I have to say right now. Haven't watched it.



Posts

: 22


Join date

: 2012-07-24



This was different. I think it could have been condensed immensely but fun all the same. The first part was fun when they were going around different places with the Daleks chasing them. Inside the haunted house place, I kinda expected Scooby and the gang to jump out. But then it go slow. Although the Doctor on Doctor-robot action was great. I liked Vicky. It's nice that a companion isn't from the current time period. Steven too. Dalek plan was interesting, trying to catch the Doctor. I found it odd when Ian and Barbara said they wanted to go home and the Doctor got very upset and angry. I wonder how much the Daleks know about the Doctor at this point.



Posts

: 65


Join date

: 2012-07-24



This is a ridiculous serial. This is one that I really should not have rewatched and yet here I am. The first time I liked it because it involved time travel into its storyline for the first time. Yet it's used in such a weird way. They go to a ship? They go to a haunted house? Peter Perves is a hick from Alabama on the top of the Empire State Building? It's a story that resets itself every few minutes without anything really adding up. Story elements are dropped usually before the end of the episode.

That said, I still thought it was fun. You have the Beatles, you have the sweet finale with Ian and Barbara and you have the Daleks with a plan just to kill The Doctor.

Also Ian dancing to the Beatles is the funniest thing of all time.
Admin




Posts

: 167


Join date

: 2012-07-09





Similar topics
---
Permissions in this forum:
You
cannot
reply to topics in this forum