Energy of the Daleks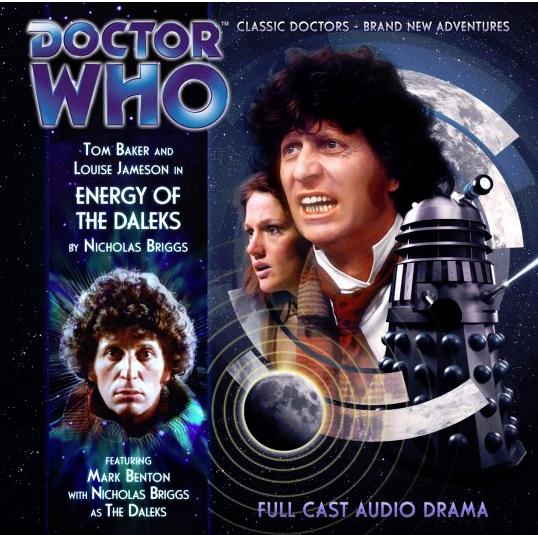 For the longest time Tom Baker held off on doing any Big Finish audio dramas. He had plenty of money and kept saying the scripts were bad. Really I think he was just being his typical odd arrogant self and enjoyed holding out on it. Recently he agreed to do them and he has been very positive about the experience. He planned on doing a set with Sarah Jane Smith, but sadly Elizabeth Sladen died last year. So he's back with Leela, another great companion.
Here's the pitch for this story: "The Doctor and Leela find themselves in the middle of London at the time of a new energy crisis. The GlobeSphere Corporation seems to have all the answers – but several thousand protestors beg to differ.
What is the connection between the National Gallery and a base on the Moon? Has radical thinker Damien Stephens simply sold out, or does he have a more sinister agenda?
The Doctor has detected a mysterious energy reading. Could it be that the most evil creatures in the universe have returned to claim ultimate victory once and for all?"
This is available for purchase at BigFinish.com.
What did you think? Does Tom Baker still have the magic? Did the Daleks have the energy? What is the connection between the National Gallery and a base on the Moon?
Admin




Posts

: 167


Join date

: 2012-07-09



This was so much fun to listen to. This was the last one I watched because I was going in chronological order and it was so nice to end with Tom Baker. When I first listened to these, I heard one that had Davison, Colin Baker and McCoy in them and I had a big smile hearing them in a new story. This was even more fun because even though he is more of a visual Doctor than those three he still has it. He's fun, but he wasn't a goofball Doctor from beginning to end. He had his silly smile, but he also knew when there was danger. The story was solid and went by very quickly. (This was only an hour story). I also enjoyed hearing the interviews behind the scenes because this was the first story that Tom Baker recorded.
Admin




Posts

: 167


Join date

: 2012-07-09




---
Permissions in this forum:
You
cannot
reply to topics in this forum