The Curse of the Daleks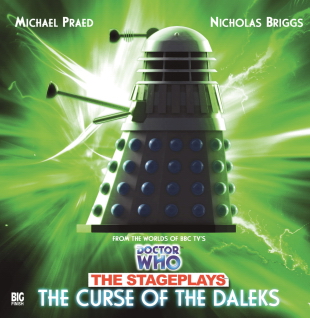 This is the third and final adaptation of one of the stage plays that were created starring the Daleks. With this one we don't have any Doctor or any companions. What's the story? This is the story:
"The space ship Starfinder is taking two dangerous criminals for trial on Earth. En route, they crash through a meteor storm and have to make an emergency landing on Skaro – the planet of the dreaded Daleks. But Captain Redway and his faithful crew don't anticipate any trouble. After all, the Daleks were defeated fifty years ago and now they are completely inactive. But when a crate full of mysterious devices is discovered and the Daleks start to come back to life, it becomes clear that there is a traitor amongst the Starfinder's crew… A traitor intent on reactivating the power of the Daleks!"
This is available for purchase at BigFinish.com
What did you think? Could this work as a play? Is Starfinder a stupid name for a ship? Is this a remake of Power of the Daleks? They even say the phrase...
Admin




Posts

: 167


Join date

: 2012-07-09



So, I guess this was the best of the stageplay adaptions, but that doesn't mean much.

I felt like this one the whole mystery of who woke up the Daleks was too drawn out and by the time we got around to the actual reveal I just didn't care anymore. I didn't find any of the characters to be particularly memorable. It sure did come as a shock that the person claiming to be the Dalek master was turned on and destroyed by the Daleks. Haven't seen that before
Overall, just another Dalek adventure. I think the presence of the Doctor would have helped this, but at the end of the day, it was just sort of a run of the mill story.

Honestly if I'd paid to go see a Doctor Who stageplay, I would have be disappointed by either of these three. There's nothing really exceptional about the characters or stories to make them appealing to fans of the show.







Posts

: 84


Join date

: 2012-07-23



I agree, this was the best of the stageplays but still amongst the weakest of the marathon.

This one felt like it could be a play more than any of the others. The conspiracies, the accusations at the beginning could make for good theatre. Yet, you're right. I didn't find any of the characters that interesting. Oddly I liked the narrator the most. That's probably not a good thing.

Also the sexism subplot was just awful.
Admin




Posts

: 167


Join date

: 2012-07-09





Similar topics
---
Permissions in this forum:
You
cannot
reply to topics in this forum