Brotherhood of the Daleks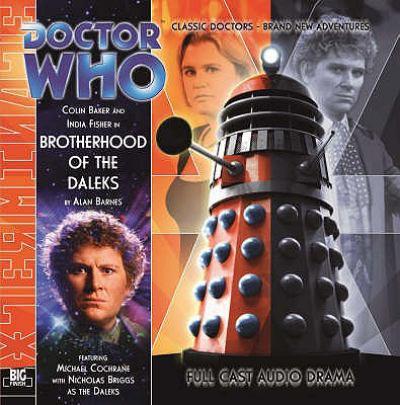 There is a brotherhood of Daleks! A ultra-violent brotherhood of Daleks, a noble tie that binds all Skaro hearts and minds. Into one brotherhood of Daleks!
Sixth Doctor and Charley and sadly no Robert Morse.
"The TARDIS materialises. Despite console readings to the contrary, the Sixth Doctor and Charley step out, unexpectedly, into an alien jungle, where they find themselves stalked and then ambushed. They have landed in the middle of one of the Dalek wars, and this time the tactics used by both sides are threatening the very nature of reality."
This can be bought at BigFinish.com
What did you think? Are you a fan of musicals about the 60s? Would those survive if reality is threatened? I hope so.
Admin




Posts

: 167


Join date

: 2012-07-09



This is another one that falls under category of fun listen, but not one my favorites of the bunch.

I think the explanation of Charley's travels with the 8th Doctor finally makes sense. She's obviously screwing with the rules of time, but you can definitely understand her reasons for doing so. A fun element.

The thing that bothers me is the idea of this Dalek brotherhood. It's just strange...and not Dalek-like. The ending is sort of cool at least with the Daleks just saying "exterminate" is what sets the failsafes in motion and brings them down.





Posts

: 84


Join date

: 2012-07-23



This was pretty complicated. Someone fell asleep watching Blade Runner and decided this could be an audio drama. Since we can't see anybody it's even trickier to figure out who is what and what is what reality. I think I got it all, but I'm not sure. It was a fun story and I thought this was the best use of Charley yet. I'm still not a big fan of her as a companion. My favorite aspect of her is the plot around her how she keeps fucking up time. Still, I rather enjoyed the final part when everything was being questioned and fought to discover the truth. Even though it was the most obvious answer for the one word, it was still a chilling ending.
Admin




Posts

: 167


Join date

: 2012-07-09




---
Permissions in this forum:
You
cannot
reply to topics in this forum