Dalek Empire IV - Part Three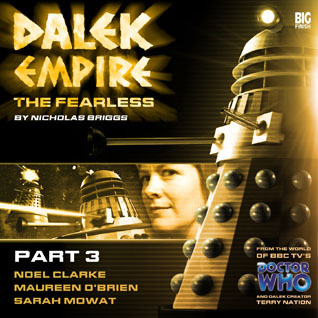 Part Three out of Four! The penultimate part which is typically in place to set stuff up for the big finale. Isn't that interesting? (These are not easy to write when you haven't heard any of these!)
"On board the star cruiser Amorist, the outcome of the war with the Daleks hangs in the balance.
Kade knows what he has to do, but has he been told the truth?"
This can be bought at BigFinish.com
What did you think? Are you pumped for the finale? Does Kade know the truth? Who is Kade?
Admin




Posts

: 167


Join date

: 2012-07-09



Okay, this episode was a little bizarre because it was all told...out of order. I mean, I get trying to get fancy with story-telling, but I didn't really see any good reason for it here.

Interesting twist with Suz here as well as Kade learning more of how he was recruited to the Spacers.

Another solid addition, and hopefully the final part will be a good conclusion.





Posts

: 84


Join date

: 2012-07-23



This had a lot of good looks at how cruel the Daleks are on a person to person level. The twist with Suz was very well done and I didn't see it coming until it was revealed. I was trying to figure out the stakes because we know that Kade can't kill her. Noel Clarke was very convincing and played the struggle very well. This is a smaller story than the other Dalek Empires, but that is working out for it.
Admin




Posts

: 167


Join date

: 2012-07-09




---
Permissions in this forum:
You
cannot
reply to topics in this forum