Fear of the Daleks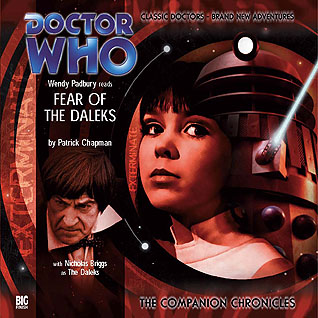 One of the popular spin-off series of Big Finish is The Companion Chronicles. This puts one of The Doctor's companions as the lead of the story. This is especially useful for the great companions to get to do an audio adventure when their Doctor actor has passed on. This one stars Zoe who was one of the best from the Second Doctor's time. (Spoiler for The War Games but at the end of that tale the Time Lords wiped her memory of the Doctor. It looks like that plays a part in this story.)
"Why has Zoe Heriot been having nightmares about the Daleks? Who is the Doctor, a mysterious man from her past? When an evil scientist hijacks her mind to control a galaxy-conquering weapon, Zoe must stop him. First, she and the Doctor will face an enemy they had thought destroyed forever."
This can be bought at BigFinish.com
What did you think? Was it fun to hear Zoe and The Doctor again? Does this hurt the ending of The War Games? What are the Daleks afraid of?
Admin




Posts

: 167


Join date

: 2012-07-09



So, this was pretty fun, but a little weird. It felt like someone was just reading a story the whole time rather than an actual production. It was still a fun listen though. One advantage is that you never really lose track of what's going on. Sometimes there are so many voices it gets confusing, but didn't have that here. Zoe is definitely a good character and it was very cool getting it all from her point of view. Her intelligence and memory make her really unique and a fun addition.

The Dalek plan here is sort of cool, using the projector to take control of the universe. Yet again, we have silly people teaming up with the Daleks thinking it will end well for them! Will they never learn? Apparently not. At least Atraka redeemed himself in the end. Sort of interesting that he was the one to take down the Daleks and not the Doctor.

I like the ending a lot too with the Doctor trying to reach out to Zoe in her dreams, and her reaction to it.





Posts

: 84


Join date

: 2012-07-23



This was a nice listen. Since this is the only Companion Chronicle, I don't know if they are all structured this way but this was nice. Zoe has always been one of my favorite companions and this was a nice use of her. They played upon a lot of fun elements of the show, especially her recollection of essentially "watching" Evil of the Daleks. (They ran an unprecedented repeat after her episode so The Doctor basically shows her that serial as a warning. Bizarre ending for that story.)

Yet this was good. I think there are more with her and I like how they keep the continuity of her memory being wiped by the Time Lords. Also a nice meta touch with the last line "I liked being young again."
Admin




Posts

: 167


Join date

: 2012-07-09





Similar topics
---
Permissions in this forum:
You
cannot
reply to topics in this forum