Blood of the Daleks Part II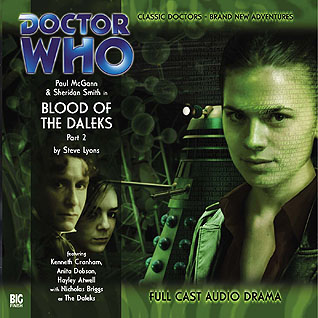 I still have no idea what this two parter is about but the fact that their site is keeping quiet about the plot makes it the more intriguing. Here is the quote provided from the site that hints at what this finale is about:
"The crashed ship. The one Tom Cardwell saw all those years ago. And you borrowed its technology, didn't you? Maybe even found a Dalek or two in the wreckage. Dead, but intact. And you began to turn human beings into creatures like them. You did that? I'm right, arent I?"
That sounds good!
This can be bought at BigFinish.com
What do you think? Was it a good finale? Did this need to be a large two-parter?
Admin




Posts

: 167


Join date

: 2012-07-09



Good follow up to a good first part. It was interesting seeing the Doctor having to work with the Daleks against... fake Daleks! I love how much the real Daleks hated the new Daleks even though their origin is basically the same, created in a lab from cells. It was a really touching moment when the new Daleks could not understand why the real Daleks hated them and started exterminating them. The new Daleks were showing real and amazing emotions... so cool! Yet, the Doctor was awesome and ended up destroying both groups. This Doctor has no mercy for the Daleks. And I wonder who this Headhunter his and why she's being sent after Lucie Miller... What did she see?!



Posts

: 65


Join date

: 2012-07-24



I love that moment when the people realize that the Daleks are the one that sent the asteroid that they're now being 'saved' by. I love how that one common theme with the Daleks is that they don't like anything that isn't them. They don't want any mutations to exist and to compete with them as ultimate force in the galaxy. It's hard to imagine a thought process that's so black and white.

I always love seeing the personalities of the Doctors on whether they're going to show mercy or are perfectly willing to wipe out an entire race whether it's Daleks new or old. The 8th Doctor clearly seems unconcerned with mercy...to him it only makes sense to wipe out that pure evil. He obviously regrets those previous acts of mercy. Always interesting to see him waver back and forth on the issue.

Lucie's story is intriguing....curious to see where that might lead.







Posts

: 84


Join date

: 2012-07-23



This was a strong conclusion. I like all of the Dalek on Dalek action. (I know what I wrote.) I enjoyed everyone's involvement. Yet I was most impressed by how they are really defining the Eighth Doctor. The FOX movie really does suck that much so they have so little to go off on. In the earlier audio dramas I heard, they played upon this happy optimism and his wizardly silliness. Now they are getting a better understanding of what this Doctor brings and it's a whole lot better. At this point the show has already aired so could this be hinting at what kind of Doctor could fight in the Time War? (Even though they can't use the Time War in Big Finish, for it's a product of the new series.)
Admin




Posts

: 167


Join date

: 2012-07-09





Similar topics
---
Permissions in this forum:
You
cannot
reply to topics in this forum