Blood of the Daleks Part I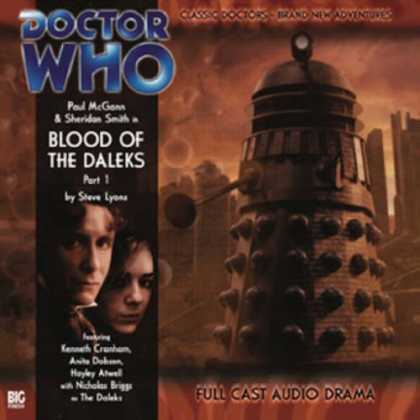 This is an interesting one. We have the Eighth Doctor and Lucie Miller in a Dalek two-parter but the official site doesn't say what this is about. All it has it this mysterious quote. This one in fact:
"People of Red Rocket Rising, my fellow citizens. Our long night is over. I've been contacted by a benevolent people. They too have known great trials, but they have overcome them and made it their mission to help others do the same. They have offered us refuge, and passage to the nearest human worlds. They have the resources, and the patience and compassion, to evacuate every one of us. My fellow citizens, my friends, rescue is at hand!"
This can be bought at BigFinish.com
What do you think? Did it end on a good spot to set up the second part? What do you think will happen next?
Admin




Posts

: 167


Join date

: 2012-07-09



My first audio drama! And wow, was it incredibly good! I was worried that I'd have a hard time following the plot without visuals but I had no problem. This was my first experience with the Eighth Doctor and I really enjoyed him. Lucie Miller as well. I want to know what she saw for the Time Lords to stick her with the Doctor. I liked the Dystopian environment caused by an asteroid collision and the resulting riots and such. And actually good backstory! A mad scientist turning people into Dalek like creatures. And the Daleks themselves. I wonder what their reasons for helping the people of this colony before they realized the Doctor was on the planet. Really can't wait to listen to part two.



Posts

: 65


Join date

: 2012-07-24



Fun start to this story!

I like Lucie quite a lot, she's a good addition to the Doctor. Also continuing to enjoy the 8th Doctor. I'm glad he was able to find life beyond just that one movie!

The idea of the Daleks coming to 'save' people is always interesting and it's always safe to say it will end poorly for the people being saved. Martez forming the Dalek mutants is definitely creepy for sure....should be interesting to see how the story ends!



Posts

: 84


Join date

: 2012-07-23



This was another strong one. I don't know why they split this up into two one hour segments, but it was a good one. I really like Lucie Miller and the secrets she brings. I want a companion that really pushes The Doctor in a different way. Charley was too helpful so I like how annoyed Lucie is. It's like she's not a fan of the show so she's bothered she's part of it now. The Dalek story is strong so far. I'm curious to see where it goes because there's no way I've already heard part II!!!
Admin




Posts

: 167


Join date

: 2012-07-09





Similar topics
---
Permissions in this forum:
You
cannot
reply to topics in this forum