Dalek Empire III - The Demons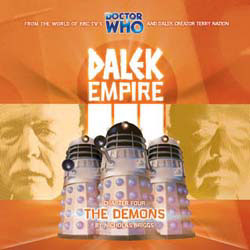 This part 4 out of 6 for Dalek Empire III. More Daleks! More pre-Doctor David Tennant! Whoo!
"Georgi Selestru's fears about the Dalek threat may not be shared by his superiors. Galanar's very survival is at stake. And the Dalek plan is gaining momentum. But who are the Demons, and whose side are they on?"
This can be bought at BigFinish.com
What did you think? What kind of name is Goregi or Galanar? Where do you think this is going?
Admin




Posts

: 167


Join date

: 2012-07-09



David Tennant is so brilliant. I mean, he just makes the whole thing better.

The idea of the 'demons' is really interesting. The fact that they were created 2000 years ago in the start of this whole thing and ended up split up and working for two different sides is really interesting. This whole story also helped fill a lot of the gaps between the end of Dalek Empire II and the start of this series.

Their abilities are super-cool though, and this made for a fun episode, but I'm interested to see how Galanar and Elaria will come into play in the final two episodes.



Posts

: 84


Join date

: 2012-07-23



Commenting on these are more difficult than the serials. When it's all one big story, I find it hard to separate the parts. I'm really liking Tennant's character. And I'm sad we didn't get to see Kamlee in this part. She was too major a character just to die without actually doing anything. And agreed, I'm loving Tennant's voice acting.



Posts

: 65


Join date

: 2012-07-24



This may have been my favorite "part" of any Dalek Empire story so far. The role of the Demons is fascinating and totally nothing like the Cylons from Battlestar Galatica whatsoever. Yet I thought their struggle and determination to try and fight past their instincts was really strong drama. Tennant is doing great and once again we had a very thrilling conclusion. Sure other plotlines were pushed to the side a little bit, but I thought this was great. Onto Part 5!
Admin




Posts

: 167


Join date

: 2012-07-09



so this secret weapon thing is actually a superhuman with a chip in his head and (holy shit) he can go invisible... all engineered by the Daleks. he's not the only one, there's a chick too, but she imprinted on the Daleks which means she saw them first thing when she woke up so now she loves them like a baby chick follows its mom? tennant (Galenar) imprints on this Kahlendorfish general dude who mistrusts the Daleks (wonder why?) and... yeah. this eposide was pretty much Tennant the whole time explaining who/what he is.



Posts

: 31


Join date

: 2012-07-28





Similar topics
---
Permissions in this forum:
You
cannot
reply to topics in this forum