Dalek Empire II - Chapter Four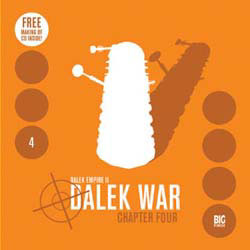 This is the final installment of the second Dalek Emipre series, Dalek War. DUN DUN DUN!
"Two thousand years ago, the galaxy was devestated by a great catastrophe. No one really knows what happened. Some say it was the work of the 'Dark One' of the 'Bringer of Death'.
And in the ancient remains of a civilisation on the planet Velyshaa, a lonely outcast is uncovering evidence of who that terrible figure really was.
Could it be that Kalendorf's determination to rid the galaxy of the Daleks will bring about the destruction of everything? Indeed, can the Daleks ever be truly defeated...?"
This can be bought at BigFinish.com
What did you think? Was this better than the first Dalek Empire? Were the Daleks completely defeated? Are they gone forever?
Admin




Posts

: 167


Join date

: 2012-07-09



I like how this story ended up being told almost entirely as a flashback through Kalendorf's memories at his burial site. It made the story more intriguing and a little less confusing.

I was very surprised that Suz would shoot Alby....that was a big shock for me. After all that? Just very sad. And then shocker of shockers, it all goes to hell and plunges into an even deeper war.

Definitely fascinating how Kalendorf ultimately 'defeats' the Daleks. I had wondered if Susan would make it out alive and that question was obviously answered. And this obviously then turned into the great catastrophe as well.

Only to discover the Daleks are coming back and a whole new war will start. It actually works very well as a transition story, giving us some new characters and...'closure' to the old ones. I'm surprised by how dark these have ended up being. There seems to be no possibility of happy ending for the humans and the 'hope' that was so important in the beginning almost seems lost.

Certainly an amazing illustration of what the Daleks are capable of without the Doctor standing in their way.



Posts

: 84


Join date

: 2012-07-23



This was a really depressing end to a really depressing series. The writers did a really good job of creating a sense of overwhelming despair. Kalandorf was willing to do whatever it took to defeat the Daleks and he cost the lives of billions to do it. Pretty much everyone we came to knew in the series died. Yet, I did enjoy it. I enjoyed the transition into the future and how it set up for a new war. I wonder how it will handled if the people are less technologically advanced than they were. And I also wonder if the Daleks have just been hanging around for 2500 years or time travel is involved.



Posts

: 65


Join date

: 2012-07-24



Like you both said, that was darn depressing. It was during this story, especially since I heard the whole series today, that I really got an idea of why the Daleks are the ultimate villain of the show. They are just relentless. There really isn't any hope as long as they are alive. We're so used to their stupid plans in the show that it's easy not to fear them. Yet if they're smart and unable to be defeated, then they are something worth being afraid of. If the Doctor was here, then it would be a different vibe. He provides hope because he's our hero. Without him, humanity can lose.

That said, still wasn't a big fan of this series. I found the non-linear format to be irritating more than evocative even though some of the future scenes were creepy. There was too many moments of characters explaining their plan or explaining their plot instead of plot actually occurring. This felt more like an epilogue to Dalek Empire than a whole new story. I hope in Dalek Empire III they are able to tell a new story. Since that's next in my chronological order, I'll find out soon!
Admin




Posts

: 167


Join date

: 2012-07-09



so... Susan's lame, she killed Alby. Kahlendorf's the man, he plants mind-bombs in things. Susan becomes the emperor for a bit, but she gets better kinda not really but only for just enough to think up this trigger that mind-fucks all the other daleks.



Posts

: 31


Join date

: 2012-07-28





Similar topics
---
Permissions in this forum:
You
cannot
reply to topics in this forum