The Stolen Earth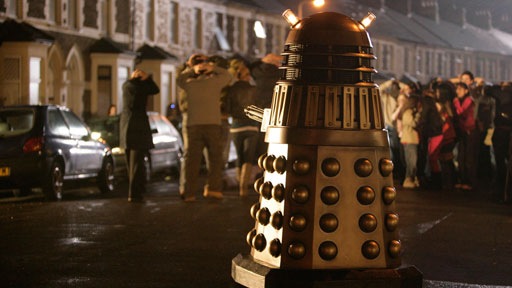 There have been subtle warnings throughout Season Four of something big coming. Well, in this sucker the Earth is stolen. I wonder who's behind this? (I'll give you a hint, you're not partaking in a Cybermen marathon.) Plenty of old friends are coming back to help before everything gets much worse including a certain Rose Tyler.
What did you think of this? Did you like all the storylines and cameos? Was it nice to finally see some of the places talked about for ages? How are they going to stop any of this? Also is this one of the best cliffhangers ever?
This episode is available on Amazon Prime, Netflix Instant and DVD.
Admin




Posts

: 167


Join date

: 2012-07-09



I love this episode. By far, one of the best visually looking episodes. The planets in the sky, the Shadow Proclamation, everything looks good.

The cameos are amazing. Seeing everybody back and working together is really cool. And no Jackie is even better. But seriously, Rose is amazing. And if she doesn't come back for the 50th events, I'll be sad. I want to see her interact with the eleventh.

The Daleks preforming a surprise invasion is awesome. I enjoyed seeing them on their ships and giving order. Supreme Dalek looks cool.

And Davros... Even though I haven't seen it, its awesome to see somebody from the older serials come back. I enjoy references to the time war.

And that ending... I wonder what he'll look like!



Posts

: 65


Join date

: 2012-07-24



This, along with Journey's End is one of my all time favorites. It seemed like a good thing to follow the Five Doctors since this is another sort of reunion episode. I also wanted to see some original Davros before I watched these.

The beginning of this definitely shows the fear everyone has for the Daleks. All the Doctor's former companions have encountered them and they're all totally stricken with fear. Except for Rose. She just sort of walks around with her giant gun and explosions going off in the background like the total badass she is. I'm with Robbie - she totally need to come back from 50th festivities. I don't even care if she came from a different showrunner and is in an alternate dimension with the half-human 10th Doctor. Let's make this happen. Oh and related, I love how she's sort of jealous of everyone throughout.

The sheer scale of what's happening in this is pretty awesome too. Not only did the Daleks straight up MOVE EARTH, but they moved 24 other planets too to make the Medusa Cascade. I think this is one of the better Dalek plans.

I just love all the cameos, cross-overs, and everything. Including Harriet Jones (we know who you are!). The subwave network is a really cool thing...always good to see the Doctor's companions coming together to save the world. I loved that it was Harriet Jones that engineered it and took the fall. Gave her a great exit from the show.

Oh, and the ending. Rose and the Doctor! Reunited! And then he gets shot by a Dalek. And starts to regenerate. HOLY SHIT. I mean, really. I think that was the cliffhanger of all cliffhangers. Good thing the only wait between episodes for me was the time it took to hit "next" on Netflix.













Posts

: 84


Join date

: 2012-07-23



It was unfortunate that I didn't have time to watch The Journey's End immediately after this one. I desperately wanted to know how the regeneration thing would work! After all, I knew Doctor Who wasn't done with David Tennant, so how could it be happening?!? I agree with robbiemehling's comment about how this episode looked - it was incredible! When the Tardis is left hanging in space I expected the people on earth to be scattered on little parts of Earth, but when they showed the sky with all the planets, it was seriously awesome.
I loved seeing all the Doctor's "people" appearing again, as if completing a puzzle (which The Journey's End ties together so well)! And of course, who doesn't like to see Captain Jack, and him working Torchwood? He makes me smile every time. Knowing who he ends up being is still a bit mind-boggling, but makes for fun viewing.

Overall, definitely one of my favorite Dalek episodes so far (along with Journey's End, of course).



Posts

: 3


Join date

: 2012-07-27



This is a fabulous episode. I really enjoyed the return of Rose as well. Not that she wasn't before, but she seemed way more badass than ever before and like Michelle said, she seems to be the one who fears the Daleks the least. Maybe because she is tired of their bullshit. HA!

This episode also opened up my eyes to actually how powerful the Daleks are. It seems they are just about capable of anything except for human emotion.

Also, I am a sucker for reunions and re-collaborations on shows and this episode was definitely one of those. It is fun to see everyone interact. And it was fun seeing the Doctor and Rose doing a funny yet romantic run towards each other….then a Dalek has to ruin the moment. Sad stuff.

This is one of my favorite Tenant episodes and it will never get old for me.




Posts

: 14


Join date

: 2012-07-31





Similar topics
---
Permissions in this forum:
You
cannot
reply to topics in this forum