Dalek Empire II - Chapter One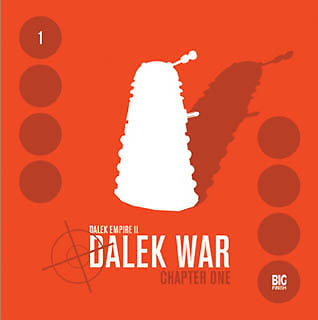 Since the first series of Dalek Empire was so successful, they came back with another batch. This one was entitled Dalek War and, like the last one, is four parts. This is obviously part one. Once again, there is no Doctor in any of these stories. Here's what the first is about:
"The galaxy is in the grip of a terrible war. Kalendorf and his alliance forces are fighting alongside Daleks from another dimension. Their common cause? The defeat of the Dalek Supreme's mighty army.
But where is the evil Emperor of the Daleks? And can it be that the legendary Angel of Mercy, Susan Mendes, has already been exterminated?
With civilisation on the brink of destruction, it may now be impossible to tell friend from foe."
This can be purchased at BigFinish.com
What do you think? Is this a promising start to a new series? Have the stakes been raised?
Admin




Posts

: 167


Join date

: 2012-07-09



The thing that strikes me most about these Dalek Empire stories is just how much time we're covering here. It seems like most Dalek episodes have a time period of a few days. The story here lasts years. It's really interesting.

What's interesting about this new episodes it that the humans are now allied with the alternate-universe Daleks. (I'm just going to call them alt-Daleks from now on). I sort of love the relationship they have with each other, they both know that they need to be allied, but both sides are very wary and don't trust the other. I'm sure at some point this alliance will break down and lead us into a new part of the story, but their relationship actually does make sense. Yeah, they have to stick together to fight this war, but neither of them like doing it.

The whole story with Suz is totally crazy. I actually liked the story-telling structure here. It was a bit confusing in the beginning, but I actually like that everything just sort of happens and then they go back and explain it later. It works. I think it'll be interesting to see what happens with Suz from here, she's clearly very important to the story. I feel kind of bad for her. She was brave enough to stand up to the Daleks while they were slaves, and now she's just a hot mess.



Posts

: 84


Join date

: 2012-07-23



I like the concept of the Mentor, a beneficent version of Davros. The new Daleks are cool and I'm enjoying the distrust the groups have between each other. I agree with Michelle on the storytelling method. Flashbacks are a different way to tell the story, but I like it. I'm sure soon shit will hit the fan and everything will go to hell and I'm eager to see it happen.



Posts

: 65


Join date

: 2012-07-24



After such an incredible four-parter, it was hard to live up to those expectations. So far this seems like a milder story. Most of the hour was composed of catching the audience up to the story with only a few new developments. I'm intrigued by the alternate Daleks but so far it seems like a lot of the same so far. I still like the characters, especially the increased position of Marrina.

Also Suz is pretty much just Ellen Ripley at this point right?
Admin




Posts

: 167


Join date

: 2012-07-09



yeah, so i think Kalendorf is right not to trust this Mentor lady thing. I hope Susan gets saved well. Why is Albi always in the wrong places? this series is much harder to follow than the first, not liking it as much so far.



Posts

: 31


Join date

: 2012-07-28





Similar topics
---
Permissions in this forum:
You
cannot
reply to topics in this forum