The Time of the Daleks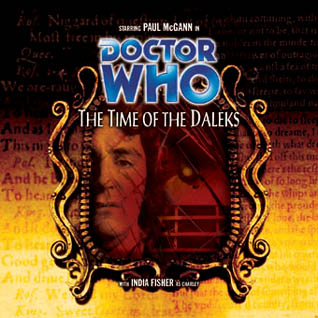 They are combining a lot of things I like here. I like the Eighth Doctor and I really like Shakespeare. I'm looking forward to this even if the synopsis is written in a weird way.
"The Doctor has always admired the work of William Shakespeare. So he is a little surprised that Charley doesn't hold the galaxy's greatest playwright in the same esteem. In fact she's never heard of him.
Which the Doctor thinks is quite impossible.
General Mariah Learman, ruling Britain after the Eurowars, is one of Shakespeare's greatest admirers, and is convinced her time machine will enable her to see the plays' original performances.
Which the Doctor believes is extremely unlikely.
The Daleks just want to help. They want Learman to get her time machine working. They want Charley to appreciate the first ever performance of Julius Caesar. They believe that Shakespeare is the greatest playwright ever to have existed and venerate his memory.
Which the Doctor knows is utterly impossible."
This can be purchased at BigFinish.com
What did you think? Were there enough references to the Bard? Would the Tempest be better if a Dalek was on the island? Would LOST be better if a Dalek was on the island?
Admin




Posts

: 167


Join date

: 2012-07-09



This was different... Not sure how I feel about being able to go between mirrors and using them to go thru time. Overall I enjoyed the story... but it's just different. Shakespeare was an interesting device but anybody or event could have been used or even nothing. I like seeing the Daleks learn from the past audio dramas. This Charley companion is different. I'm not sure how time is unravelling around her. I'll just have to listen to more of the dramas with the Eighth Doctor and her. Daleks quoting Shakespeare was bizarre. I loved the opening to the story.

And I want to see a Dalek battle the Smoke Monster. Perhaps Daleks were the ones truly behind the Dharma Initiative.



Posts

: 65


Join date

: 2012-07-24



Didn't like this one as much as the last few I've watched, but still a fun adventure. I liked how the beginning played out with Charley knowing nothing about Shakespeare. Sort of an interesting introduction to the story.

I thought the mirrors/clock were sort of a cool device to travel through time. It was pretty cool.

I really liked the 8th Doctor, definitely looking forward to more stories with him. A nice change of pace.



Posts

: 84


Join date

: 2012-07-23



This one felt off throughout. I love Shakespeare and aside from a few random quotes from Hamlet or Richard II, he wasn't really used beyond a MacGuffin. It was great to hear the Daleks speak highly of them early on in the story. Their mirror time machine was cool, but it all seemed to be adding up to sci-fi gibberish with the occasional hyperbolic statement from The Doctor saying that everything is in danger.

This is now my second story with Charley and I'm a bit disappointed. Her intro story was also a bit flat (Storm Warning). Like this one she was just the typical companion asking the right questions and such until the last five minutes when The Doctor talks about how there is more to her. It's because she was supposed to die in a famous accident but The Doctor saved her. I hope they're leading to something really good, but right now she doesn't have too much of a personality. She's no Evelyn, but who is?
Admin




Posts

: 167


Join date

: 2012-07-09





Similar topics
---
Permissions in this forum:
You
cannot
reply to topics in this forum