Dalek Empire - Project Infinity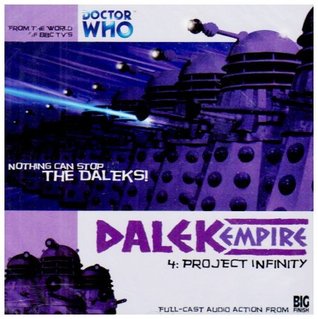 This is part 4 out of 4 of the first series of Dalek Empire. Let's see how it all ends!
"The Seers of Yaldos have a sad story to tell, but Alby and Kalendorf know they must listen.
Meanwhile, the Daleks seem unconcerned by their recent defeats. They have their sights firmly fixed on Project Infinity. In the hands of the Daleks, the human race's only hope of victory could signal the destruction of the entire universe."
This can be purchased at BigFinish.com
So what did you think? Was this a satisfying conclusion to the story? Did it need The Doctor or was it fine on its own?
Admin




Posts

: 167


Join date

: 2012-07-09



So, we finally find out what project infinity is! And holy shit, the Daleks have a pretty good plan for it. I think this is actually one of the best Dalek plans we've seen, and it actually would have worked if the Daleks from the other dimension hadn't turned on the...original Daleks. Damn, this is confusing to write. Who would have thought Daleks would find fellow Daleks evil? This shit got crazy.

The thing that bothers me is that for all the effort they put into being able to create the gateway with project infinity, they were already doing a pretty decent job conquering the universe. I mean, you had control of several planets guys. I think you probably could have made it work without a dimensional gateway.

Overall, a very good little series. It worked very well without the Doctor. It stood up well as just a Dalek story and there was honestly never a point where I was really bummed he wasn't there. It's sort of interesting just seeing the humans fight the Daleks without his help.

Still ends on a bit of a cliffhanger though! Will be interesting to see what happens in Dalek Empire II.



Posts

: 84


Join date

: 2012-07-23



So project infinity is crazy. it's some super powerful something which needs this precious whatever mineral they've been harvesting since the first episode to power it... duh. but really, it's a super cool plan, searching through all possible eventualities for Daleks which have successfully taken over the entire universe to help them conquer their own. or if you're human, to find an eventuality where the Daleks have been defeated and to use that to help them win the war (which they've pretty much lost by this point). Suze has an interesting return in this, and Kahlendorf and Alby make friends and do good things, and the ending is AWESOME. REally excited to start The Dalek Empire II.



Posts

: 31


Join date

: 2012-07-28



So that was a mighty fine ending to Dalek Empire. This ended up being a really great story and not having The Doctor in it was a help. Since Doctor stories tend to work like a detective novel where he goes from place to place figuring it all out on his own, it can get into a routine. This was a more complicated story with many affecting plotlines.

Yes, that last 10 minutes is pretty nuts. I was surprised they ended on that note. I actually listened to my iPod for another two minutes figuring there was more. I'm very intrigued by what happens in Dalek Empire II now.

Also I was very impressed on how it tied into the first Doctor stories. They used the information from the library, the Supreme Dalek used a psychic link like in the Mutant Phase. I'm sure it tied into the second story more than them just expanding their Empire, but I probably missed it.

Really great stuff.
Admin




Posts

: 167


Join date

: 2012-07-09



What an ending! Really enjoyable and satisfying end to the first series. Overall I loved how the whole thing spanned years rather than days like a Doctor story. It made the rebellion seem more epic and realistic. I love how everything tied in with the Doctor/Dalek Empire stories and used elements from each one and connected to Dalek Invasion of Earth. And more Dalek versus Dalek! Can't wait for Dalek Empire II.



Posts

: 65


Join date

: 2012-07-24





Similar topics
---
Permissions in this forum:
You
cannot
reply to topics in this forum