Plague of the Daleks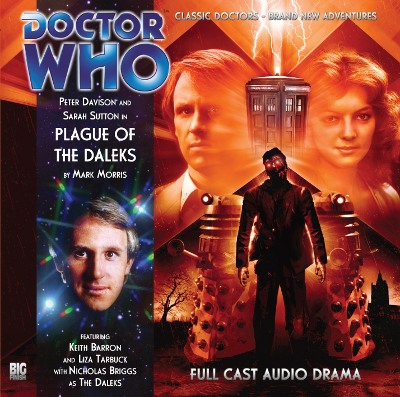 So we have the Fifth Doctor and we have Nyssa. That is a nice combination, she was always his best companion. Also there's Daleks, but what else does this story need? Let's check out the synopsis....
"Stockbridge used to be such a lovely place. The loveliest village in all England, according to the guide books. But hardly anyone visits Stockbridge now: a few tourists, a couple of Trust guides, the odd beady-eyed raven.
But something is coming to Stockbridge. Something which turns village cricketers into ravening zombies – a plague such as the Earth has never seen, falling through history from a time when humanity's greatest enemy was a race known as the Daleks.
The Doctor and Nyssa visit Stockbridge for the final time, to confront the terrible secret buried at its heart. The storm clouds are gathering…"
ZOMBIES. We have zombies here!
This story is available for purchase at BigFinish.com
What did you think? Did the zombies want brains? Did the Daleks want brains? If Adric was here would he be a feast for them all?
Admin




Posts

: 167


Join date

: 2012-07-09



I really liked this one. The 5th Doctor was a nice change of pace since the audio dramas seem to always be the 6th or 8th. The story was pretty fun. Nothing earth-shattering about the Daleks, but it was fun to listen to and wasn't a totally cliche Dalek adventure.

I always enjoy Nyssa because she really can hold her own. I love how for majority of this story she and the Doctor are separated and she just comes up with a plan and leads the way. She's not getting captured or doing anything ridiculous. Overall, another fun one! I think pretty much anything with zombies=thumbs up.



Posts

: 84


Join date

: 2012-07-23



For the longest time, I was wondering if the Daleks were ever going to show up for this plague of the Daleks. A whole segment goes by and there weren't any Daleks. It reminded me of the humorous complaint about the Classic series. Often times the big cliffhanger at the end of episode 1 was that the Daleks were behind this! However, the title usually game that away. It's not a big shock to discover the Daleks in a story called Day of the Daleks.

Anywho, this was a good one. I liked the town and I liked how the rain messed with people in a way that is similar to a Dalek plan but a new little twist. Good one!
Admin




Posts

: 167


Join date

: 2012-07-09





Similar topics
---
Permissions in this forum:
You
cannot
reply to topics in this forum