Day of the Daleks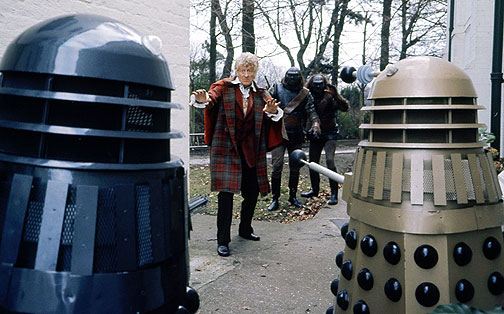 This was the big return of the Daleks. They were supposed to have been gone from the show forever after Evil of the Daleks, but Terry Nation's American Dalek TV show never happened so they're back. Now here's the interesting thing: Terry Nation didn't write this episode, unlike all the past ones. So this one has a much different story than we've seen before. More timey-wimey than others.
At this point the Third Doctor is exiled to Earth after disobeyed the laws of the Time Lords to not interfere. He's working with UNIT, an organized task force dedicated to protecting the Earth from all sorts of weird stuff. Basically Torchwood before Torchwood but more governmental.
This story is available on DVD which has different audio version for the Daleks.
What did you think of this one? Did you like the change of pace? Did it get too confusing? Was it awesome to see The Doctor drink?
Admin




Posts

: 167


Join date

: 2012-07-09



Oh boy, made the leap from black and white stills to full color! How exciting.

This was definitely more timey-wimey than the episodes we've seen before. I needed to consult my good friend Wikipedia to get everything straight, but once I figured it all out it was a good story. It took a bit to get everything in order but it all made sense by the end.

What was interesting about this one is that the Dalek's didn't necessarily have a master plan to take over the world...they were just trying to preserve their future where they already had taken over the world. Whoa...that was confusing to type. It all makes sense in my head! And in the episode.

A really fun change of pace though. My only complaint is that the ending felt really abrupt. Explosion! "Yeah, these peace talks better work, we've seen what happens when they don't." END. I guess you didn't need much more resolution, but after everything I was just like...oh it's over? Just like that?

Granted, if Terry Nation had been writing this at that point we would have had to go back to the future because they forgot something, maybe that's the reason!





Posts

: 84


Join date

: 2012-07-23



This felt really different. A completely different style. But for part 3 and 4, I was really digging it. It was nice to see the Doctor with more energy and moving about. It was fun to see the Dalek's complete hatred of anything not like them. It really showed itself in this one. Also seeing the Daleks go into actual combat was awesome. It showed the war machines they really are. I loved the timey-wimeyness of it all. I love me some paradoxes. I agree it ended rather abruptly, but I'd rather have that than have it keep going than adding ridiculous turns like previous serials did.



Posts

: 65


Join date

: 2012-07-24



I skipped Evil of the Daleks, but I'll get to that next. I just wanted to watch one on my TV. This one didn't hold up as much on the second viewing. The director for this one is just nuts. So many weird shots that don't entirely work, especially the super super close-ups. Yet I like how this was an atypical Dalek story with the different divisions and timelines. Jo was utterly worthless. I don't think she did one thing. The Doctor was fun and he drank a lot of wine this time.

Since I own the DVD and watched it on two different nights, I decided to watch the new edition for Parts 1 and 2 and the original version for parts 3 and 4. I loved having the new voice of the Daleks for the new version because Nic Briggs rocks. Yet I really hated the "new" special effects because they were so cheap. But the voice for the Black Dalek sucks in the old one. I rather have the new voices and the old effects. Make this happen 2Entertain!
Admin




Posts

: 167


Join date

: 2012-07-09



This episode was... fun. Color really shocked me at first, but it wasn't too hard to get used to. this was my first exposure to the third Doctor, i really like him. He likes wine. I really really enjoy that doctor. he's a scientist who's pissed at everyone... he's awesome.
also, Brigadier is the shit. i would watch something on just him.



Posts

: 31


Join date

: 2012-07-28




---
Permissions in this forum:
You
cannot
reply to topics in this forum