Return of the Daleks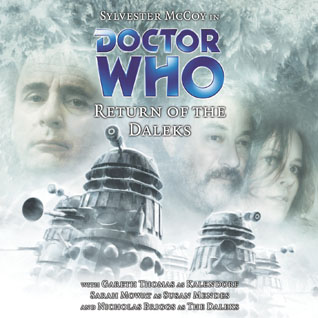 Just like the Jedi, we all knew the Daleks had to return as well. It's up to the Seventh Doctor to figure out if that's a good thing or not. I can't think of a situation where it could be a good thing, but I'll remain open minded. Here's an actual synopsis:
"But even though it's been centuries now… In our hearts, none of us feels truly… Safe. I think, even if our people were to survive until the end of time itself, we would still fear… The return of the Daleks."
This can be purchased at BigFinish.com
What did you think? This one was a bit shorter, did that work better for this story? Does the Doctor always need a companion?
Admin




Posts

: 167


Join date

: 2012-07-09



Ok, this one was pretty cool in that it combined several stories. First, the Doctor crossed paths with the characters and events of Dalek Empire I & II and we revisit the events of 'Planet of the Daleks' and the Dalek army buried under molten ice there. It was definitely sort of fun to revisit the Spridons and get a moment of...nope we haven't forgotten about that army buried under ice!

I liked that it was a little shorter, it really worked for the story.

Overall, a lot of fun and interesting to see a couple previous stories intersect.



Posts

: 84


Join date

: 2012-07-23



This was fun. Just an hour of tying up loose ends over decades of Doctor Who. This is the sort of thing that I love from the show. Moffat does that every once in awhile like explaining the temporal grace in the TARDIS. "That was just a clever lie to save my life!" It didn't really create a full story, but it had a lot of fun stuff. The Seventh Doctor was the perfect one to be part of this story because he's so mysterious. I didn't even the story was going to be like this until Kalendorf showed up in the very beginning. Good times.
Admin




Posts

: 167


Join date

: 2012-07-09





Similar topics
---
Permissions in this forum:
You
cannot
reply to topics in this forum