The Genocide Machine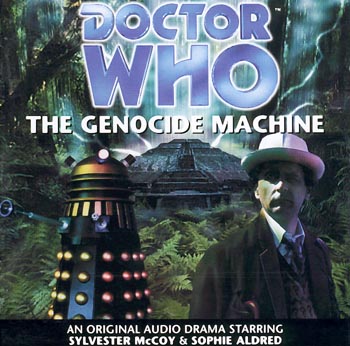 Welcome to the early days of Big Finish! This is their seventh ever story and fitting it stars the Seventh Doctor. GOOD PLANNING. In this he and Ace are up against a deadly enemy. Can you guess which one? You should be able to guess which one. Here's the official synopsis:
"The library on Kar-Charrat is one of the wonders of the Universe. It is also hidden from all but a few select species. The Doctor and Ace discover that the librarians have found a new way of storing data - a wetworks facility - but the machine has attracted unwanted attention, and the Doctor soon finds himself pitted against his oldest and deadliest enemies - the Daleks!"
This can be purchased at BigFinish.com
What did you think? Did the Doctor and Ace still have that great mentor/mentee chemistry? Was there silence in the library? Did they cross the shadows?!?
Admin




Posts

: 167


Join date

: 2012-07-09



Leading up to this marathon I've listened to a few early Big Finish audio dramas. They have been pretty good and fun to listen to. This is easily the best so far. The pacing is excellent and they do a great job with setting up the mystery and twists. The Daleks are seen as a scary force with how much they were willing to wait for this to be successful.

McCoy was amazing in the final part when he becomes very mad at someone once he gets all the information about what's going on. Sophie Aldren is great and they finally figured out how to have someone play a duel role in an audio drama. I really liked the supporting characters of Beverly and the librarian.

This was a very satisfying, great start to Big Finish Dalek stories. Highly recommended.
Admin




Posts

: 167


Join date

: 2012-07-09



This was my first Doctor Who audio drama, and quite and enjoyable ride! It was pretty easy to follow and I enjoyed all the characters involved. To me the most intriguing part of the story wasn't necessarily the Daleks themselves, but the whole idea of sustaining the library at the cost of a an entire species. Sometimes the enemy isn't quite as obvious.

On one hand the idea of a Dalek containing all knowledge of the universe is terrifying, but when we see the way it affects it, certainly interesting to consider what would have happened if it survived.

Overall, an enjoyable listen while I was making rundowns at work. Made it more interesting at least!



Posts

: 84


Join date

: 2012-07-23



I love an angry Doctor. Whenever somebody is mass exterminating a species or imprisoning them, it brings it out and I always enjoy it. An all-knowledgable Dalek... awesome concept. I love how he wants to protect life and knowledge. Too bad he died. Perhaps the Daleks should learn from him. There's a lot of similarities in this story to the one in the Tenth two parter. Hmm. Overall, I really enjoyed it.



Posts

: 65


Join date

: 2012-07-24





Similar topics
---
Permissions in this forum:
You
cannot
reply to topics in this forum