Dalek Empire - Invasion of the Daleks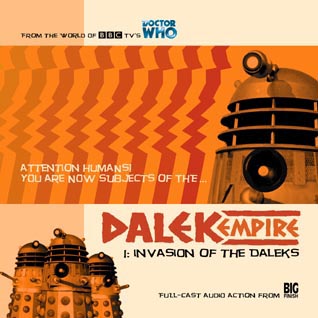 Big Finish has had plenty of spin-off series focusing on different aspects of the Doctor Who universe. The Daleks are among the most popular creations so they get their own series. This is the first part of a Dalek Empire series. There are three more series of Dalek Empire stories that are all featured in this marathon. This is the very first part out of four for this set. Let's see what it's about...
"The Milky Way is at peace. After centuries of struggle, the Earth Alliance has been created and all is well. Then, without warning, the Daleks launch their invasion. An invasion which threatens to tear apart the fabric of our entire galaxy..."
This can be purchased at a lower price at BigFinish.com
What did you think? Does a Dalek story work without having The Doctor present? Where do you think the plot is going?
Admin




Posts

: 167


Join date

: 2012-07-09



This was a pretty fun listen. I was surprised how well it worked without the Doctor. It seems strange having Daleks around and no Doctor swooping in to save the day, but it's actually an interesting change of pace.

The Daleks are pretty dominant here. The humans have come up with some forms of resistance and made some progress, but fact is they are just slaves to the Daleks. Definitely intrigued to see what the Daleks need this vaganite mineral for later in this story.

I really like the character of Suz...everyone else adds a lot too including Alby obviously, but for me she's the most intriguing and seems like she might be the most important person to the story. Can't quite put my finger on what the Daleks are planning with her, but I'm looking forward to listening to the rest of "Dalek Empire."



Posts

: 84


Join date

: 2012-07-23



I was really impressed by this (it was my first audio-drama). these stories are really engaging, surprisingly so. some parts do get confusing tho; when they keep introducing people and quickly move from one scene to the other, cause you only have their voices to and whatever context left over from previous scenes to tell them apart. Still, its very surprising how good a story can be with just the Daleks and some nobodies (tho you get really close after a while!). The opening was pretty crazy, a huge burning ship falling through the sky. Then the humans get enslaved and Susan (we meet her in the beginning) becomes the Angle of Mercy, or maybe that's the next one, so....



Posts

: 31


Join date

: 2012-07-28



These audio dramas just keep getting better. They're able to accomplish more with their acting. Having characters getting drunk and eating while talking allows them to be able to do more in this format. This was a very exciting opening and I'm loving all of the mysteries that are being kept. I'm not as curious about why certain characters know about the Daleks but I am curious about why the Daleks are interacting with Suz in this fashion. Further impressed with how they dealt with telepathy and condensing the speech. Very well produced, looking forward to the rest of the story.
Admin




Posts

: 167


Join date

: 2012-07-09



I'm a huge fan of the Star Wars Expanded Universe and some my favorite stories are ones that don't involve any of the main characters. So I was looking forward to seeing how they handle something without the Doctor. And it didn't disappoint. I think, if anything, there is a larger sense of despair knowing the Doctor isn't coming to save the day. How can a few humans hope to have any chance of stopping the Daleks. I'm very curious to see what their plans for Susan are. (I refuse to call her Suz.)

Also, I take great comfort and relief in knowing that Southern Comfort survives galactic expansion and makes it to other systems. The universe would be a darker place without SoCo. And the Doctor, of course. But for right now, SoCo.



Posts

: 65


Join date

: 2012-07-24





Similar topics
---
Permissions in this forum:
You
cannot
reply to topics in this forum