Bad Wolf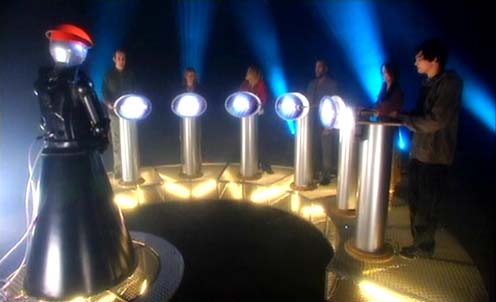 All throughout Season One this phrase has been hidden in the background...bad wolf. What does it mean? We'll get to that after the Ninth Doctor, Rose and Captain Jack survive a few deadly reality shows.
What did you think of this? Did the humor work for you? Did it work as a satire or was it just supposed to be fun? How much did that ending pump you up for the finale?
This episode is available on Amazon Prime, Netflix Instant and DVD.
Admin




Posts

: 167


Join date

: 2012-07-09



I've always found this episode but weird. I like that it visits a place we've already been to and we get to see the effects of the Doctor's involvement. And how it's not always for the best outcome. The whole episode is a funny poke at reality game shows but seems weird in a Doctor Who episode and especially leading up to the finale of the season and the death of the Ninth doctor. Captain Jack's involvement for most of the episode grated on my nerves. It also seems weird that Daleks would be using game shows to get weird. But nonetheless, it's an enjoyable and fun episode and definitely excites one for the finale and to see their villainous plan.



Posts

: 65


Join date

: 2012-07-24



I'm with Robbie, I've always felt like this episode was a little weird and repeat viewings never really make me like it more. The reveal at the end that the daleks are there mostly makes me just ask....what? why? But, it's a good setup for the finale.

Something I think is interesting about this episode in general is seeing the consequences of the Doctor's actions. Things don't always turn out the way they're supposed to...goes back to 'no good deed goes unpunished.' Interesting to see a less-than-desirable result.

Oh and, I like Captain Jack =), but maybe that's just me. I could probably live with or without him, but I really don't mind his presence in this episode. I think it's sort of a fun side show. "Where were you hiding that?"





Posts

: 84


Join date

: 2012-07-23



It was a little eerie (and enjoyable) to revisit the satellite and see floor numbers, similar technology, and everything else. And of course, I agree with how it was interesting to see how the Doctor's previous actions had directly impacted The Game Center so far into the future. (However, the Doctor's and Captain's actions seemed a little bit too "knock 'em dead with blunt force to escape". Could we have had a little bit more...Spock?) Nice tie-in, but I'm also always confused on why the Daleks never die. Just a pet peeve of mine. So far in how much I've watched Dr. Who, there haven't been any good explanations as to their secret whereabouts where they keep recreating themselves. Ah well. I suppose that is the appeal of the Daleks, as well as the frustration.
I'm really enjoying rewatching these episodes. I loved Rose the first time around and it's nice to be able to watch again, knowing where she goes as a character. I loved the Big Brother aspect and how we were able to revisit a story told a few episodes back. While I enjoyed the episode and the way that they extended it to a second episode, I wish I understood better the way that the Dalek's work. I also didn't mind seeing a bit more of Captain Jack, if you know what I mean.



Posts

: 7


Join date

: 2012-07-24


Age

: 29



I didn't have as big of a turnaround as I did with Dalek on this rewatch. It still remains a silly episode for most of it as it took on the satire of reality show. Sadly, most of this seems like a missed opportunity. Davies was trying for this seasonal arc by having actions carry consequences but it requires too much of the characters explaining what happened, not the audience knowing. I know it's the same futuristic TV network thing from The Long Game, but it honestly could just be a similar looking blue set.

Anywho, still a bunch of nice things like Lynda with a Y. Also when I first watched this, I lost it seeing just how many Daleks there were. One kicked everyone's ass a few weeks ago. So the last five minutes or so are pretty fantastic, while the rest either felt like silly (fun) filler and flimsy plotting. Looking forward to the finale though.

By the way, Eccleston is a fantastic actor. Really showed in Dalek and during the key scenes, he's very good in this. Probably one of the best actors to play The Doctor, even if not the best Doctor. Shallow Grave is a great flick (with a few flaws near the end) with him and you really ought to see his first collaboration with Russell T. Davies, The Second Coming.
Admin




Posts

: 167


Join date

: 2012-07-09



All I could think of at first was, hey I thought I have seen all the new Doctor Who episodes before, but when I started watching this, I realized this is the first time I am ever seeing it. Now it is making me wonder, how many other episodes have I missed?

That being said, I thought it was an okay episode. I don't really like that it's a reality game show, particularly because I find those boring. However, I get what they were trying to do.

Anyways, this is just one of those episodes I don't think I will probably watch again.




Posts

: 14


Join date

: 2012-07-31





Similar topics
---
Permissions in this forum:
You
cannot
reply to topics in this forum