Asylum of the Daleks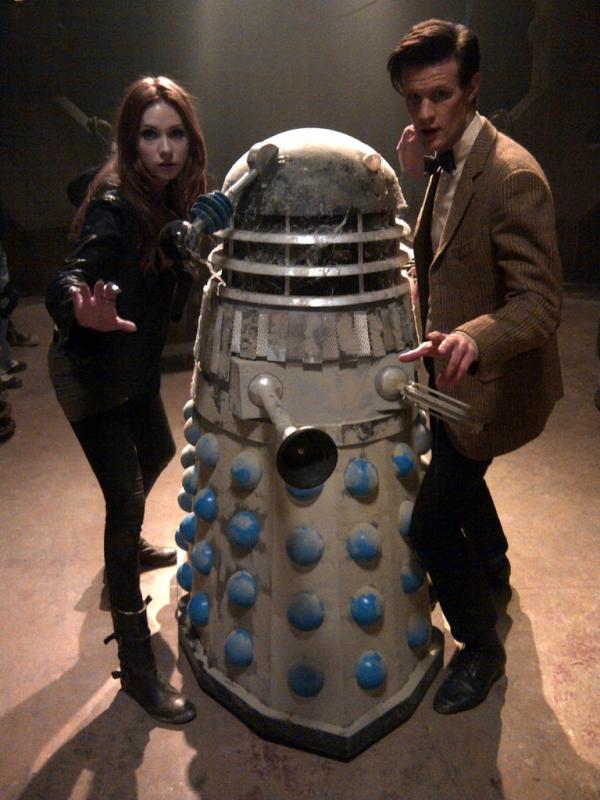 The Eleventh Doctor, Amy and Rory are up against every Dalek ever in a story written by The Moff himself. I don't know too much about this yet because I'm avoiding spoilers, but let's just say I have high expectations.
Now none of you should post in this thread until the day it airs. Unless you went to the British Film Institution screening. Yet, I don't believe you.
All signs to this airing on BBC One on August 25th. It should air on BBC America on the same day. If you live in New York or Chicago, keep an eye out because they've screened the last two premieres early at free Q&A events.
Admin




Posts

: 167


Join date

: 2012-07-09



That was very awesome. I can't wait to watch it again. It was creepy to see all of the Daleks in the oddly lit places. I was expecting more of a war of the Daleks, but the Asylum was more like a graveyard. Plenty of cool twists, including one BIG one that I can't wait to see where it goes. Vagueness!

I'm going to watch this again very soon.
Admin




Posts

: 167


Join date

: 2012-07-09



So many daleks!!! It was really awesome seeing that many daleks and all the iterations. Them needing the Doctor was a weird feeling. But it seemed like a win-win for them. They could get rid of the problem of the asylum and kill the Doctor at the same time. Don't want to give anything away in case someone for some reason reads this before watching the episode, but it is cool, cool, cool! The major twist is awesome and I really need to watch this episode again to key in on the subtleties.



Posts

: 4


Join date

: 2012-09-01



Oh my god. Oh my god. Oh my god. Oh my god. Oh my god. Oh my god. Oh my god. Oh my god. Oh my god.

That's really all I have to say. I mean, that twist! I'm just sitting here with my mouth gaping open.

Then my mom proceeded to ask questions that made it very clear she completely missed the plot of the show. "Why did they blow up the planet? Who blew up the planet? Why would they want to do that?" I mean, really.



Posts

: 84


Join date

: 2012-07-23



this one was awesome. i'm excited for this new girl and how shit's gonna happen with that, and she's too cute (ESP. AS A DALEK!). kinda wish we had more Dalek, especially the crazy ones. The bit with "i'm looking for reverse" and "FORWARD! FORWARD!" was funny as hell. and i love how the Daleks now forgot the Doctor. Rory and Amy better never separate again (even tho the papers were signed, so i think they might still be divorced).



Posts

: 31


Join date

: 2012-07-28



Well, I loved it, of course, but I was slightly disappointed. When I heard that every Dalek ever was coming back, I was hoping to see Alpha, Beta, and Omega from the Second Doctor's Evil of the Daleks (a.k.a. the only cute Daleks ever). But Oswin's sweet moment at the end made up for it.

I was on the fence about her at first, but she won me over with her back-and-forth with Rory.



Posts

: 2


Join date

: 2012-07-25



This was really fun and a great start to a new season. I hadn't expected to see the new companion in the first episode but I loved her! Amy seeing the Daleks as people was great. Cant wait to watch it again!



Posts

: 65


Join date

: 2012-07-24



Okay, I'm assuming that anyone reading this thread has seen the episode.
Daleks all look the same!

I only noted a few different designs, but even in the asylum, they all looked like RTD Daleks to me. I think I spotted some white Rainbow Daleks on the dais in the Parliament, but the chamber was mostly filled with RTD Daleks, which should be yesterday's tinker toys now. I wasn't keen on the color-coding, but that can be obviated by having one class vastly outnumber the others, and that's the sort of thing that needs to be committed to.
It was cool in the end hearing emotion in a Dalek's voice (other than frenzied fear).



Posts

: 22


Join date

: 2012-07-24




---
Permissions in this forum:
You
cannot
reply to topics in this forum