Dalek Empire III - The Exterminators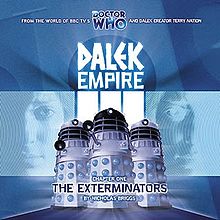 This is part 1 out of 6 of a new series of Dalek Empire. This one is worth noting for two reasons. One is the longest of the Dalek Empire series and it stars David Tennant! Now this is 2004 so the show hasn't even come back yet, let alone cast Tennant as the Tenth Doctor. Yet David Tennant is the only one of the Doctors who was a complete Doctor Who nerd before taking the job. It was his dream to be on the show and here's one of his steps along the way.
"Twenty years ago, Siy Tarkov set off from the planet Velyshaa, making his way back to the Galactic Union, carrying vital information about a deadly race known as the Daleks. But now, he's lost in deep space...
Meanwhile, the Graxis Wardens have a new recruit. But their ecological paradise is about to be plunged into chaos."
This can be purchased at BigFinish.com
What do you think? Was it weird hearing David Tennant not as The Doctor? Is this a promising start for the series?
Admin




Posts

: 167


Join date

: 2012-07-09



Dalek Empire II basically served as a continuation of the story from Dalek Empire I... I like that this is a still a continuation technically, but it's a new story and new characters.

David Tennant wasn't in this a whole lot, but I'm hoping he's more present in the rest of this series.

I'm intrigued to see where this story is going...the Daleks are back once more, but aren't overtly invading, exterminating and doing what they do. Supposedly they're helping the humans find a cure for this plague, but they apparently have managed to get control over all these border planets without any big-flashy invasions. Should be interesting to see what their plan turns out to be.

I like the new characters, especially Saxton and Kaymee. I like that Kaymee pretty much is just an average girl, but there's obviously more to her. Should be interesting to see where her story goes. I hope it isn't depressing as Suz's in the first two parts of 'Dalek Empire.'



Posts

: 84


Join date

: 2012-07-23



I really like how the Daleks are sneaking in quietly this time instead of an all out assault. I liked this continuation of the story even thought its 2500 years in the future. They did a good job bridging them although I found the beginning of this part a little hard to follow. I like how Daleks have slipped away from every bodies mine. I wonder what Selestru's true goals are. I just sense something sinister about him.



Posts

: 65


Join date

: 2012-07-24



On one hand, this seems to be the most sci-fi of all the audio dramas so far. The names are ridiculous and plenty of use of the word "galactic." That said, this was a whole lot better than Dalek Empire II. This contained all the things that I missed: the human drama that wasn't just agony. I liked the new girl falling from orbit, I liked the surprise birthday party, I liked Sky's struggle when he woke up. I'm intrigued by all of them. Then that cliffhanger made this whole thing felt like it was in the same world as Firefly, which is always good. Very good stuff.
Admin




Posts

: 167


Join date

: 2012-07-09



ok thank god this takes place later with new people and all that. I was getting sick of Susan and Kahl and ... that last one was no fun.
but now holy crap it's been two thousand years and some crazy shit went down that plunged humanity into some sort of Dark Age. i guess the crazy shit wasn't just the Dalek War, but actually Susan goes ballistic and when she's mind-fucking all the other Daleks, she gets connected to them all cause she's also the Emperor so they listen to her, and she goes around destroying everything and actually i think she brought about this "Great Catastrophe"



Posts

: 31


Join date

: 2012-07-28





Similar topics
---
Permissions in this forum:
You
cannot
reply to topics in this forum