Army of Ghosts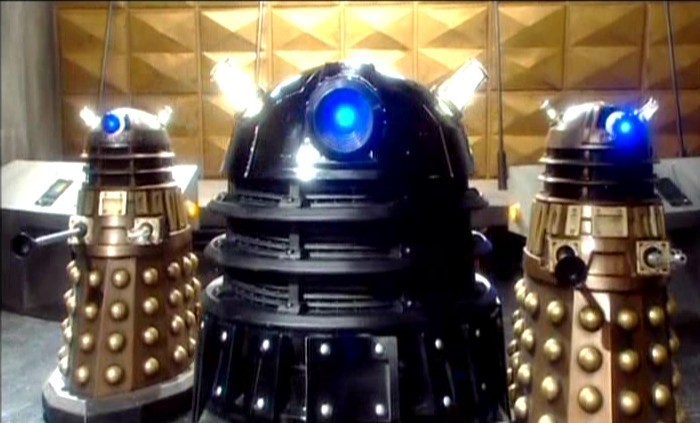 In this first part to the Season Two finale, the Tenth Doctor and Rose return to present day Earth to investigate these odd ghosts that appear. What are they and what is Torchwood think they're doing? (Note this is a Torchwood before Captain Jack's Torchwood.)
What did you think of this one? Did you geek out about the villain showdown? Are you worried about the safety of Rose? Did you like Jackie more this episode? What in the world is going to happen next?
This episode is available on Amazon Prime, Netflix Instant and DVD.
Admin




Posts

: 167


Join date

: 2012-07-09



I really like the way this episode starts out with Rose. We've now been with her for two seasons and this Doctor for one and it's nice recap. It also brings out my biggest problem with RTD. He can't arc a story to save his life. Without the beginning, we'd have no way of knowing this is Rose's final two episodes. Yet its a nice introduction to Torchwood and the Cybermen ghosts are fun.

The four Daleks at the end are cool. It gives that "Oh crap, Cybermen and Daleks at the same time. What is the Doctor going to do?" feeling. I find it slight nerve racking and awesome at the same time.



Posts

: 65


Join date

: 2012-07-24



I think this leads nicely into the season 2 finale Doomsday. I also like how it starts with Rose and we start to realize what's at stake in the next two episodes and recaps her and the Doctor's time together.

I love the ending of this episode though. You're caught in such an "OH SHIT!" moment realizing that not only do you have an invasion of Cybermen, but there's also Daleks to contend with.

I also like that we get to see Mickey again and see a little bit of resolution for his character. Interesting to see him sort of ignore Rose and be like "oh yeah good to see you" without ever actually taking his eyes off the sphere to look at here. Intriguing.

Now onto Doomsday!



Posts

: 84


Join date

: 2012-07-23



Great introduction to the end of Rose, gave enough time to brace yourself and grab a box of tissues. I love that these ghosts are what I would picture a ghost to look like: not scary or the way that a person looked when they died but a whole representation of what they were. Martha finding a cybermen scared the crud out of me but the Doctor quickly got me to laugh with his, "Who ya gonna call?! GHOSTBUSTERS!" bit. Ugh they're so in love, it kills me.

Welcome back Mickey! Excuse while I grab tissues before this next episode.



Posts

: 7


Join date

: 2012-07-24


Age

: 29



I think this is an okay episode that is just leading to the finale of the season which is much better in my mind. I do have to say I found it very disturbing that everyone was just okay with having ghosts appear for a certain time and then just disappearing. Seriously? I know that by the time Rose and the Doctor return to present day it has been going on for a while, but I don't know if that is something I could just get used to.

However, I do enjoy the ending with the big reveal of the Daleks. Always nice to end an episode of Doctor Who going, "OH SNAP!"




Posts

: 14


Join date

: 2012-07-31



This was amazing. I loved rewatching this episode. This two-parter is easily the best Davies finale and this is when everything is working for him. I love everything The Doctor does when talking to Jackie. I like how Torchwood operates. I really like Mickey taking charge. Even the little interactions with non-Martha was working. I watched them back to back and I actually like this more than Doomsday (for reasons I'll say in the next thread.)

They really held back by saying what's in the sphere and it was fantastic when they revealed it.

Really great dialog all the way through. Even the eye rolling "Ghostbusters!" and the (what turns out to be complete bullshit) opening voice-over.

Also the direction was really damn good. This is the only director who worked on the Classic and the New Series and he's the main reason why the most beloved episode ever (The Caves of Androzani) is that damn good.
Admin




Posts

: 167


Join date

: 2012-07-09





Similar topics
---
Permissions in this forum:
You
cannot
reply to topics in this forum